Today, computer storage devices are cheap and can store a large amount of data without any issue. Yet there is a field in computer storage that still uses comparatively older tools. This field is disposable storage, and DVDs still rule it.
DVD or Digital Video Disk is a plastic disk coated with a thin chemical reflective film that is capable of storing digital data. It is mostly used when there is a need of disposable computer storage. It is permanent and cannot be formatted to store new data again.
The only drawback that comes with using a DVD for storage that it needs to be specially written by a process called "Burning" as regular copy & paste doesn't work. It needs burning software and a particular type of hardware known as DVD Writer, but it can be commonly found on most PCs and laptops today.
There are many softwares that you can use to burn DVD on windows. We have made a list of best DVD burning software along with their brief reviews. So, you can know their features and functions. Hence, you can pick the best DVD burning software according to your needs.
Best DVD Burning Software For Windows.
Given below are the best DVD burning software for Windows. These are the best ones, according to our research. So, you can choose anyone from the list without a doubt.
1. ImgBurn.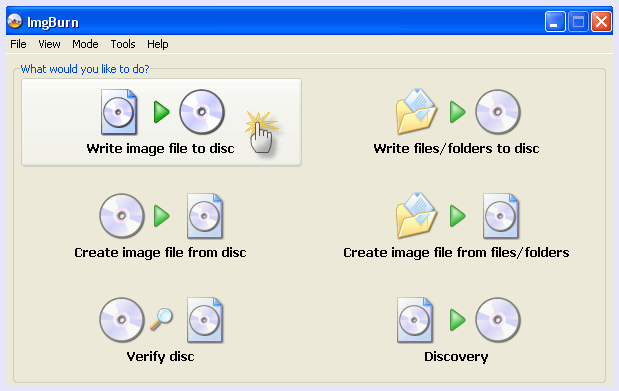 ImgBurn is the best tool for burning DVDs when it comes to ISO format. That means creating disks with Operating Systems, and other heavy software. You can burn Software and OS disks using ImgBurn very quickly.
Another thing you can do with this DVD burning tool is that you can rip software from DVD and create an iso file from it as well. As this DVD burning software is simple and easy to use, it doesn't offer control over storage paths and folders.
(ImgBurn) :Download.
2. BurnAware.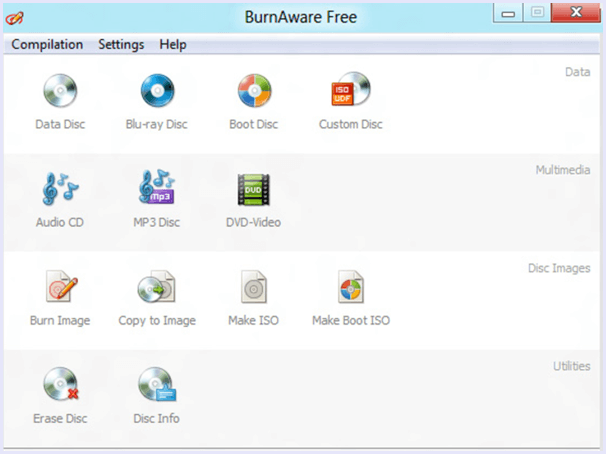 The next tool in the list of best DVD burning software is BurnAware. BurnAware is free for personal use, but you need to pay if you want to use it commercially.
You can use BurnAware for many purposes like creating a Data disk, Audio CD, Software / OS Disk, Erase a rewritable drive, Create an MP3 disk, a bootable DVD, and much more.
Along with all these burning features, this tool also offers some additional features such as creating an iso, creating multiple span disks, verify a disk, etc.
(BurnAware): Download.
3. Power2Go.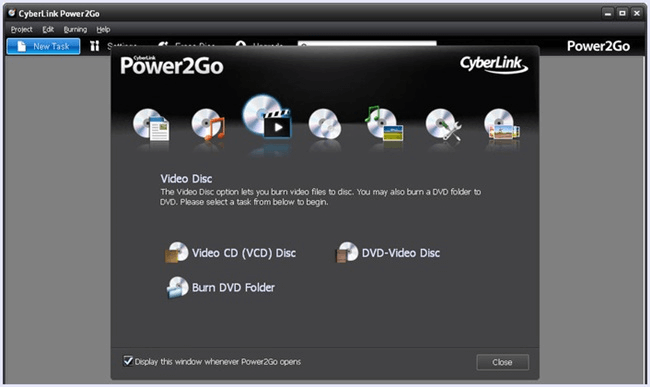 Power2Go is an excellent tool for burning DVDs. The software is developed by CyberLink, which is a well-known software brand for quality products.
And, Power2Go also carries this fact ahead with it. It offers a lot of customisations for burning your DVDs. You can create a Data Disk, Video Disk, Music disk, MP3 disk, Photo Gallary Disk, etc.
Additional features include copying disks, online media backup, a full-fledged media converter, and some other utilities. The essential thing about this tool is that you can burn DVDs via your smartphones as well as cloud storage too.
(Power2Go): Download.
4. DeepBurner.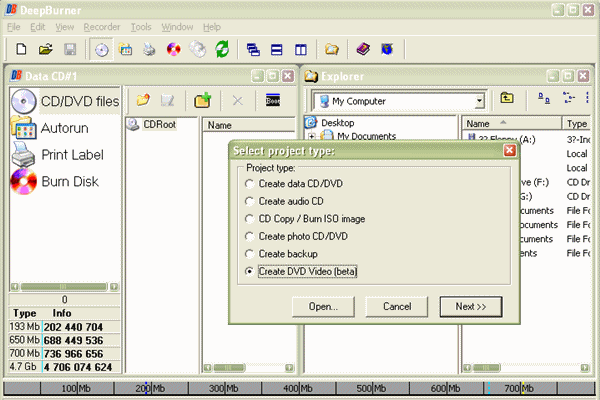 DeepBurner is an extremely lightweight DVD burning software. It is light and portable and doesn't even need installation. That means you can carry it around easily in a small pen drive as well as download it anywhere in case of an emergency.
You can create Data, Multimedia as well as image DVDs with DeepBurner, but each type of burning feature comes in the specific small portable package.
Hence, you can download the one you need. Note that there are very few optimisations when it comes to burning, and it may take some time burning the disk, yet it is beneficial in case you need a lightweight tool for occasional burning.
(DeepBurner ): Download.
5. CDBurnerXP.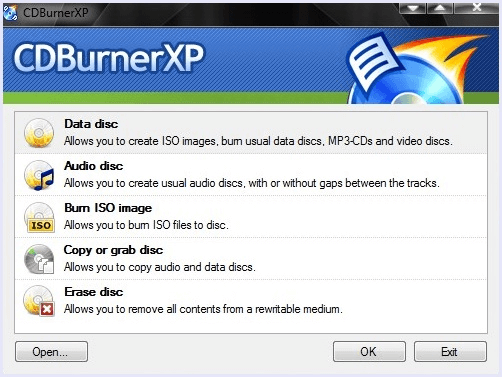 CDBurnerXP is a free DVD burning tool that was initially created for Windows XP, but it has been continuously updated and supports "All versions of Windows up to Windows 10".
The interface of this tool is very intuitive, and a lot of features are neatly organised into neat functions such as Data Disk, Video DVD, Audio DVD, Burn ISO, Copy Disk, and Erase disk.
This tool is highly recommended as it offers excellent features in an easy to use interface and is entirely free to use. That means you can use its full features for personal as well as commercial use without paying a single cent.
(CDBurnerXP): Download.
6. Ashampoo Burning Studio.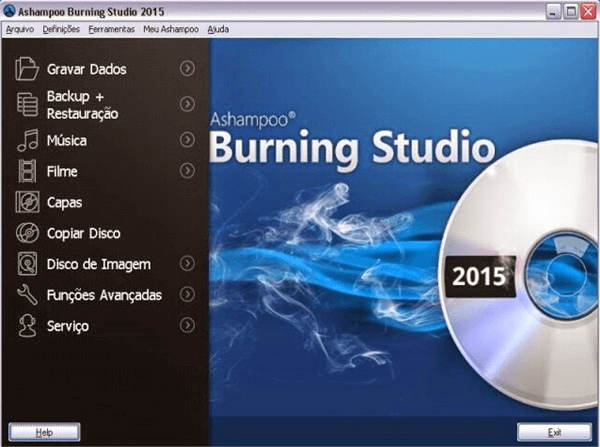 Ashampoo Burning Studio free is a great tool when it comes to both simplicity and features. It is because it comes with a set of features offered by most paid DVD burning tools in a clean and intuitive interface that doesn't compromise on looks.
Apart from all the regular burning features of Data and media disks, Ashampoo Burning Studio also offers additional features like Backup and Restore, as well as media handling and editing tools.
(Ashampoo Burning Studio): Download.
7. Nero Burning Rom.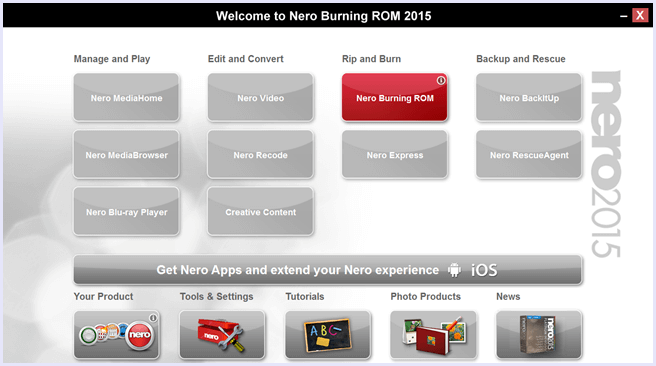 Nero is the first name that pops up in our heads when we think about paid DVD burning tools. It has been the most commonly known name for DVD burning tools. It is because Nero offers the best tools out there for all DVD burning needs.
Even though the interface might look a little overwhelming on the first use, the number of parameters available for your DVD burning is endless. Another great feature Nero offers is the SecureDisk feature. Using your DVD becomes very reliable because data is burnt multiple times on the disk.
It makes it readable even from a scratched or damaged disk. Nero provides a lot of customisation for DVD burning along with facilities like burning over WiFi from a smartphone or tablet.
(Nero Burning Rom): Download.
8. NCH Express Burn.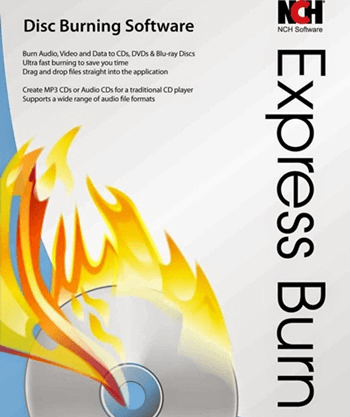 The next software for DVD burning on Windows is the NCH Express Burn. Just like all the tools mentioned above, it also supports all formats of disk writing and offers many options for customisation as well.
This tool is free, but you can purchase the premium version to unlock more features. The best part about this tool is that it burns DVDs with phenomenal quality. The output from the burnt disks is entirely lossless.
(NCH Express Burn): Download.
9. Infra Recorder.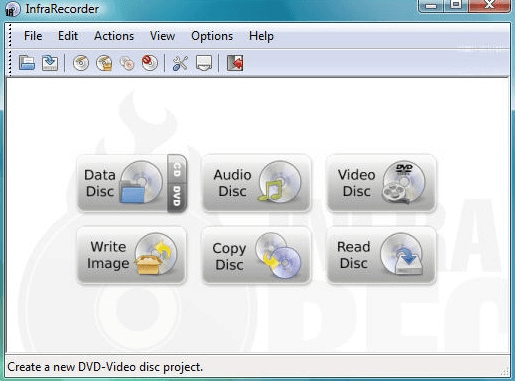 Infra Recorder is a free DVD burning tool for Windows. It is guaranteed to be free of bloatware and is open source so you can be assured of its safety. It does all the usual stuff for an excellent DVD burning tool like creating data and media disks, burning iso files, MP3 discs, and more.
The best thing about this best DVD burning tool is that you can even download its portable version and carry it in a USB drive.
(Infra Recorder): Download.
10. WinX DVD Author.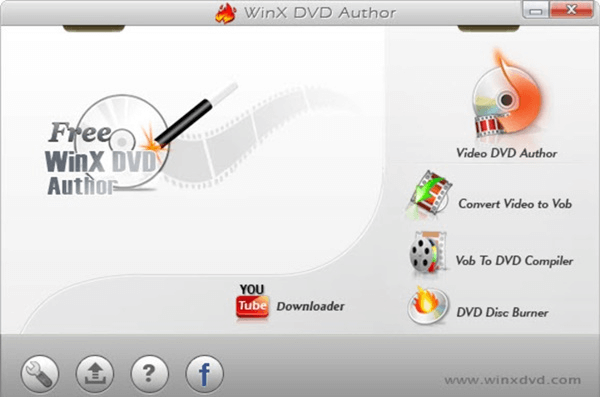 The last tool on our list of best DVD burning software is the WinX DVD Author. This tool is just for creating movie disks, and it offers many customisations to do so. It supports all formats for video.
The interface is simple but offers customisation in areas of the menu, menu background, music as well as SRT subtitles. The video encoding is fast and hassle-free with WinX DVD Author.
(WinX DVD Author): Download.
Hence, these are the best DVD burning software available for Windows.
In conclusion, these are the best DVD burning software available for windows. We hope you find this list and our reviews useful. If you feel we missed your favourite DVD burning software, feel free to mention it in the comments below. Also, we'd love to help you out in case you need any assistance regarding DVD burning.