The internet has provided us with many great gifts. It has brought evolution to the field of communication and is continuing to do so. But the original form of communication on the internet was the E-Mail. It was invented to digitalize the post system. We all are familiar with email as it is the first identity of any person online.
Even though an average user uses email only to verify accounts and sign up for services, it is also used as the official method for professional communication in most organizations. It is still the most effective way to contact anyone online and hence, professionally. It is vital to have the right email service provider.
There are many email service providers on the internet. Some of them are familiar names, but then some of the email service providers are less known but offer excellent services. Today, we are going to review the best email service providers on the internet for you to choose from.
We have made a list of Best Free Email Service Providers with uttermost curation. Each platform is reviewed based on features, functions, compatibility and much more. Then, it made into the list. After all, it is upon you which you want to choose from the list, depending on your needs and requirements.
Best Email Service Providers List.
Given below is the list of the best email providers available on the internet, along with a brief review.
This list will help you choose the best email service provider according to your use and requirements. So, let us begin.
1. Gmail.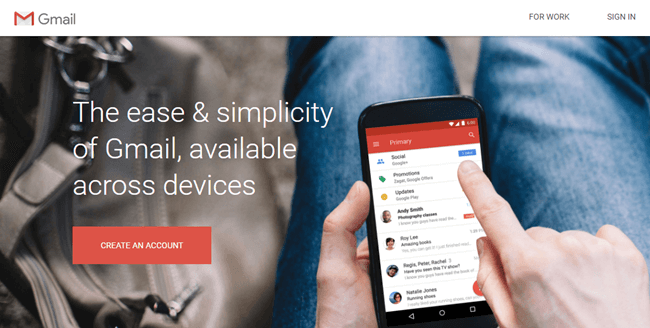 Gmail is the world's most used email service in the world. Google started it in 2004.
Most people prefer a Gmail account because one Gmail account lets you use all Google services such as YouTube, Google Play, Drive, Docs, and about 100 more services.
It is also mandatory for android users to have a Google account to make the best use of services. So many features and an excellent email service make Gmail the best choice for email service in today's world.
The interface is neat, ads and promotions are sorted out, and you can send large attachments using the google drive integration. But all these make Google account very personal, so people don't find it safe to use it publically. You can Sign Up.
2. Outlook.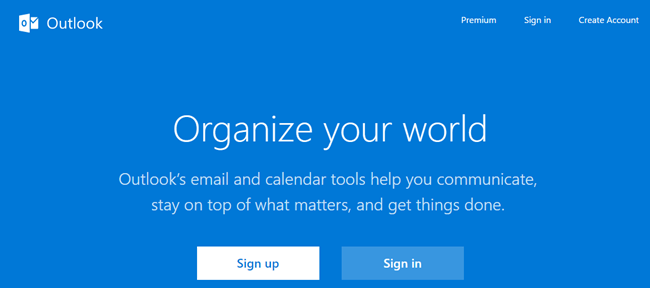 Outlook is a Microsoft-owned email service. It deeply integrates with MS Office as well as the Microsoft Windows Store and Apps.
Businesses prefer outlook, yet it can be used for personal use as well. People with a Windows 10 device (PC/Phone) may already have an Outlook account and can begin using the service instantly.
Outlook is an immaculate and dependable email service and offers a clean, minimalistic yet professional email service. Click to Sign Up.
3. Yahoo! Mail.

Yahoo! is an ancient internet company. It was a massive trend before Google came into the market. Yahoo! still, offers many services and Yahoo! Mail is one of the best of them.
The best feature of Yahoo! Mail is that it offers one first TB of free space. There are also great Android and iOS apps to keep you posted on the go.
The service is pretty clean and dependable. The emails sort into default categories and you can even make specific folders.
Another great feature with Yahoo! Mail is that you can unsend any mail within 3 seconds of sending so it can be a lifesaver for many. You can Sign Up.
4. Mail.com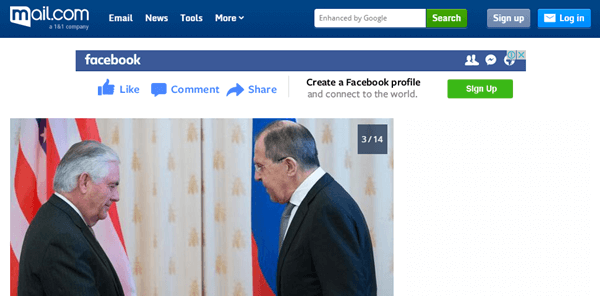 The next service on the list of best email services, we have Mail.com. This service is also known as GMX mail.
The service is pretty simple and offers distraction-free email experience — the usual features such as attachments, drafts, outbox, sent box, and more.
You can also use the IMAP and POP access as a paid ad on this service. If you are looking for a professional tracking free email service, this service may be the choice for you. Click to Sign Up.
5. iCloud Mail.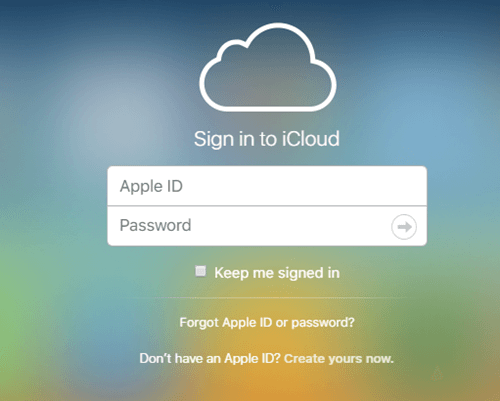 Apple devices use an iCloud account to sync stuff online as well as purchase apps, games, and media content. This account is also used for iTunes.
What users do not know is that there is an email service bundled with an iCloud account. And, you access them on your Apple device as well as the web browser.
Although the web version is not that great and doesn't offer many features like the services mentioned above, it can be an excellent backup email service or a secondary account, especially if you have an Apple device. You can Visit Now.
6. AOL Mail.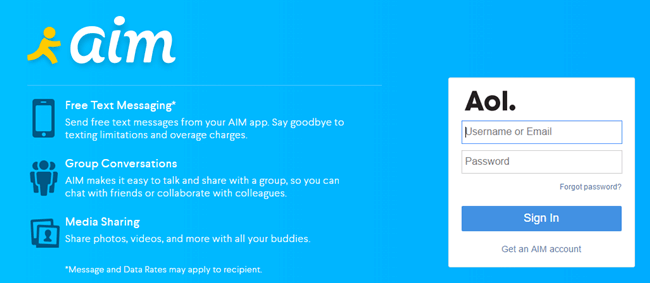 AOL has been very popular on the internet for creating communication tools. AIM is their free web-based email service that you can use for sending and receiving emails on the internet.
It is very easy to signup for the service. AIM offers a decent email service and can be used easily configured according to requirements.
The best thing about AIM is that it offers unlimited storage for free. It also supports IMAP and POP so you can make this service very productive. Click to Sign Up.
7. ProtonMail.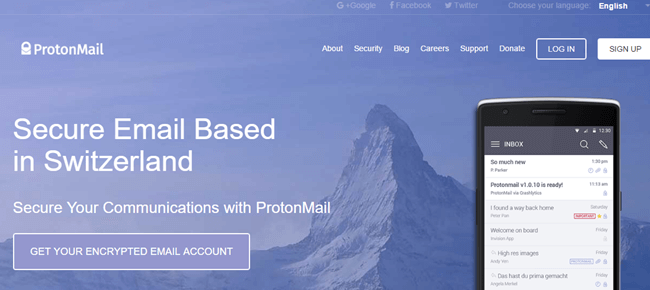 ProtonMail is the next best email service on this list. If you are concerned about privacy or tracking by most online services and are looking for a very private and secure email service, ProtonMail is the email service provider for you.
ProtonMail offers high end to end encryption with complete security. There is no readable copy left anywhere online, and it isn't possible to export your data anywhere.
This service offers up to 500MB of free storage, and paid options include up to 20GB. The organization features for your mail are also great, and this service is an excellent alternative to the mainstream services. You can Sign Up.
8. Yandex.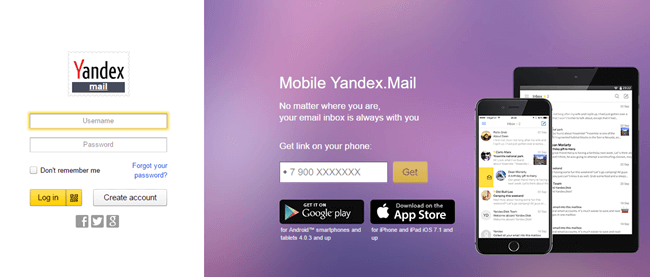 Yandex mail is another email service provided online that you can choose as your email service for business and personal email accounts.
It is known for its helpful features like templates, snippets, reminders, and keyboard shortcuts. These help Yandex mail both fun to use and productive at the same time.
There is a free unlimited storage addition, which is always lovely. This service supports IMAP and POP so you can use the service according to your requirement. Click to Sign Up.
9. Inbox by Google.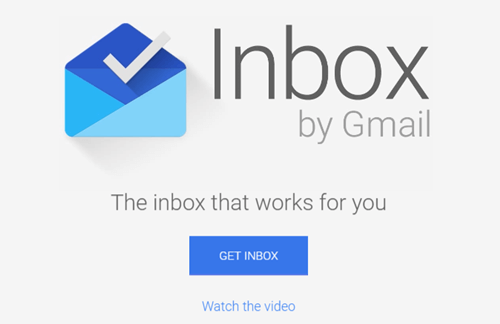 Although it is an alternative skin or interfaces for Gmail, it offers many features that make it worth mentioning. If you are like any average user, we are sure your inbox must be full of ads and offers and promotions and much more.
Between all that clutter, it is tough to find relevant and useful emails. But the inbox is designed to save you from such situations.
It has a unique never seen before email interface that makes email more like conversations.
It also knows what is essential and keeps spam and unnecessary emails away from your site. Inbox is available on the web as well as an Android application. You can Sign Up.
10. Zoho Mail.

Zoho mail is a freemium email service that offers an excellent free email service that can convert into a great email service by paying for a few features.
The free account will get you unlimited storage, IMAP, and POP support as well as some productive organization features. However, there is a fixed quota for sending and receiving emails per day.
Paying for a premium account will get you advanced features like Push Email, ActiveSync, and many features. It also offers an auto-response system that can be used by businesses. Click to Sign Up.
Hence, these are the best email service providers on the internet.
In conclusion, we hope that this list will help you find a suitable service provider for you. For any queries & suggestions, feel free to comment below. Let us know which email service you use the most.