Advertisement is like the backbone of any web platform. Almost all platforms like blogs, media houses, and social media rely on ads to generate revenue. On the other hand, there are tons of brands and services that are using advertisements to get more sales and traffic.
But whenever we think about advertising online we hear some big players like Google Ads, Bing ads, and many other ad networks. But these big brands are not so affordable for all advertisers to reach out to mass and target audiences with affordable budgets. Even for publishers platforms like adsense is not so easy task to get approved and earn with.
So while researching and exploring we have found UngAds Advertising Network is one of the amazing platforms with smartcpa, CPM, popunders & native ad formats. It provides various targeting options and profitable ways of advertising with more than half a million publishers all around the globe. UngAds provide optimal Ad solution to its advertisers and publishers for better audience targeting and increased web traffic.
Ad Formats
1. Pop-under or Click-under
Pop-under or Click-under the kind of ads that appears behind the browser are known as pop-under or click-under ads. These ads are less intrusive than pop-up ads which appear in front of the webpage. These ads remain invisible until an active window is opened.
Price Models: CPM, CPA 2.0
2. Push Notifications.
Push notification is a message that pop-ups when the browser window is closed. One of the greatest advantages of such ads is that it's impossible to miss any notification as it shows up on the device right away.
Price Models: CPM, CPC
3. Native Ads.
Native Ads are most effective in order to attract an audience. They are placed in such a manner that it is impossible to pass by them and they do not fall to the banner blindness. Moreover, they can't be blocked.
Price models: CPM, CPC
Advantages Of UngAds.
1. Direct Publishers and Partner Traffic.
UngAds provide traffic from their existing network of publishers and collaborate with other advertising networks to provide the users with the best quality and volumes. The amount of partner traffic is about 15% on average depending on the geo.
2. Automatic Optimization.
Using an auto-optimization tool one can blacklist/whitelist publishers in your ad campaign by creating certain rules. Let's say, the optimal conversion cost for your offer is 50$. In such case, you can create a rule: If the publisher site has totally spent 50$ and this site had <1 conversion – it will be automatically added to the campaign's blacklist.
3. API and Integration.
Tracking Tokens can be set in the URL to accommodate your tracker settings. Ungads provide full integration with following trackers:
Binom, BeMob, trackwill, octo tracker, voluum, adsbridge, redtrack, peerclick, keitaro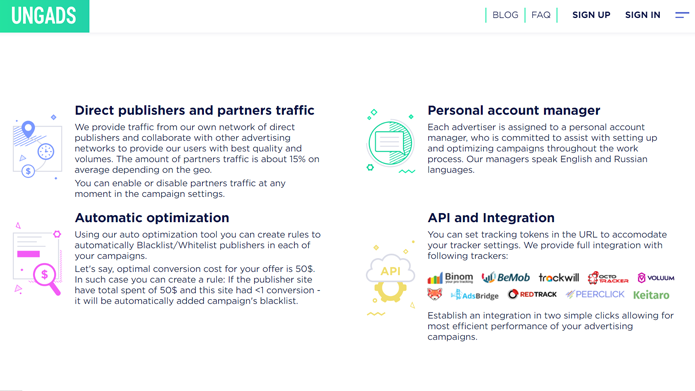 UngAds Main Features
500K+ Publishers
190+ Geos
800 million Impressions Daily.
Various payment options (PayPal, Paxum, Payoneer, Wire)
Self-service platform (Set up and optimize your campaigns independently. Our user-friendly interface makes it easy to create, target, launch, change, or optimize your campaigns with no effort.)
Fighting bot traffic (They have our own antifraud system that helps us fight against click fraud.
Targeting Options
Location (country & city)
Device (desktop, tablet, phone)
Connection Type (wifi, 3g)
Mobile Carrier
Operation System
Day Of Week
Time Of Day
Frequency Capping
Browser
Category
Language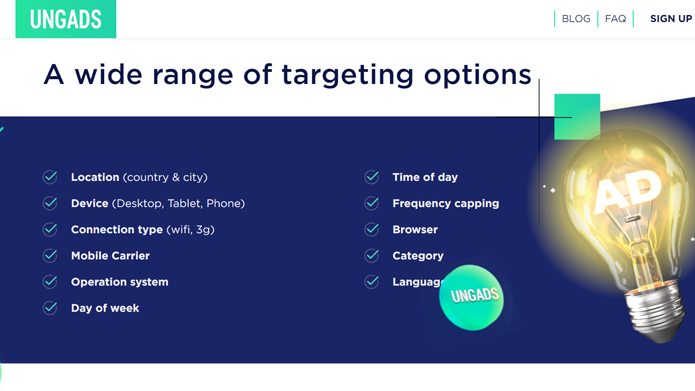 In conclusion, UngAds is one of the best web traffic and advertisement platforms. If you are an advertiser or a publisher looking to integrate ads into your platform or want to target a specific group of audience through selected targeting you can vouch for UngAds.