As we are using PC and Smartphone in day to day to routine. These devices make our life simple and easy. We access the internet on these devices and access useful services to get information and entertainment. Many websites, apps, games are available for our devices.
Smartphone apps are increasing rapidly after the Android OS came into the market. Android is an open-source OS for mobile devices so it attracts developers. Millions of different apps are available in the Play Store.
We already listed out some best android apps and games lovers also listed out the best android games. Even Many apps are available which help to find much useful information. The basic purpose of mobile is calling.
So we their are some apps that help to enhance the calling feature. Like we all want to know who is calling from an unknown mobile number. There are many websites available on the internet to get this information. But for smartphones, Truecaller is one of the popular apps to trace a mobile user location and name.
Truecaller has a global phone number directory. You can easily trace the number when you get a call from an unknown number. But Truecaller destroys your phone number privacy.
If you call to unknown person by mistake or dialed any wrong number then it will become a serious issue. So to secure mobile number details we need to remove it. Our main motive is to secure and maintain our privacy.
If you want to know how to remove your number from Truecaller then read this article because today we are going to discuss the method to remove numbers from the Truecaller database.
How To Remove Number From Truecaller. ?
Step 1. Open your Web browser and type the following URL without Quotes and press Enter.
http://www.truecaller.com/unlist
Step 2. Now you see the Truecaller Unlist Phone Number Webpage. Scroll the page down.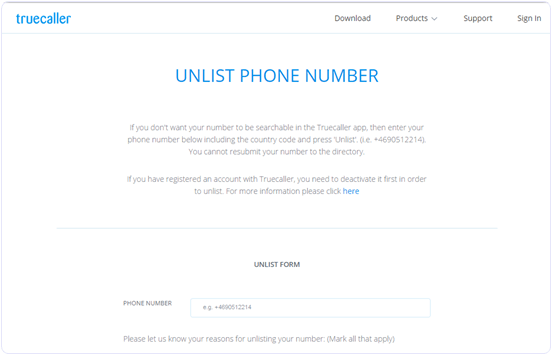 Step 3. On this Page, you have to select some options like reason, verification captcha, and verification code and enter your Phone Number, etc.
Step 4. After filling the form you have to click on the blue unlist Button After that, your number is successfully removed from the Truecaller database.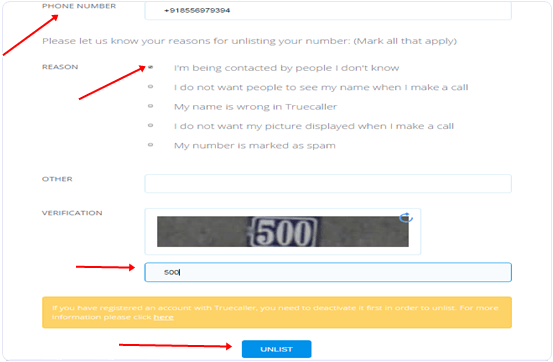 Note:- Before Removing your number You have to deactivate your Truecaller account so that Truecaller verify that you're the actual owner of the number.
Watch YouTube Video To Remove Number From Truecaller.
In conclusion, we hope you like this method and successfully removed the number from the Truecaller app. Don't forget to share it with others.