In today's world, technology and the internet is something which is playing a really important role. Whether we are Adults, Youngsters, or children, no matter how old someone is, in certain ways, all of us are exploring and using smartphones. For playing games, surfing the internet, education, entertainment, doing business, etc. Smartphones & internet become an important part of all aspects.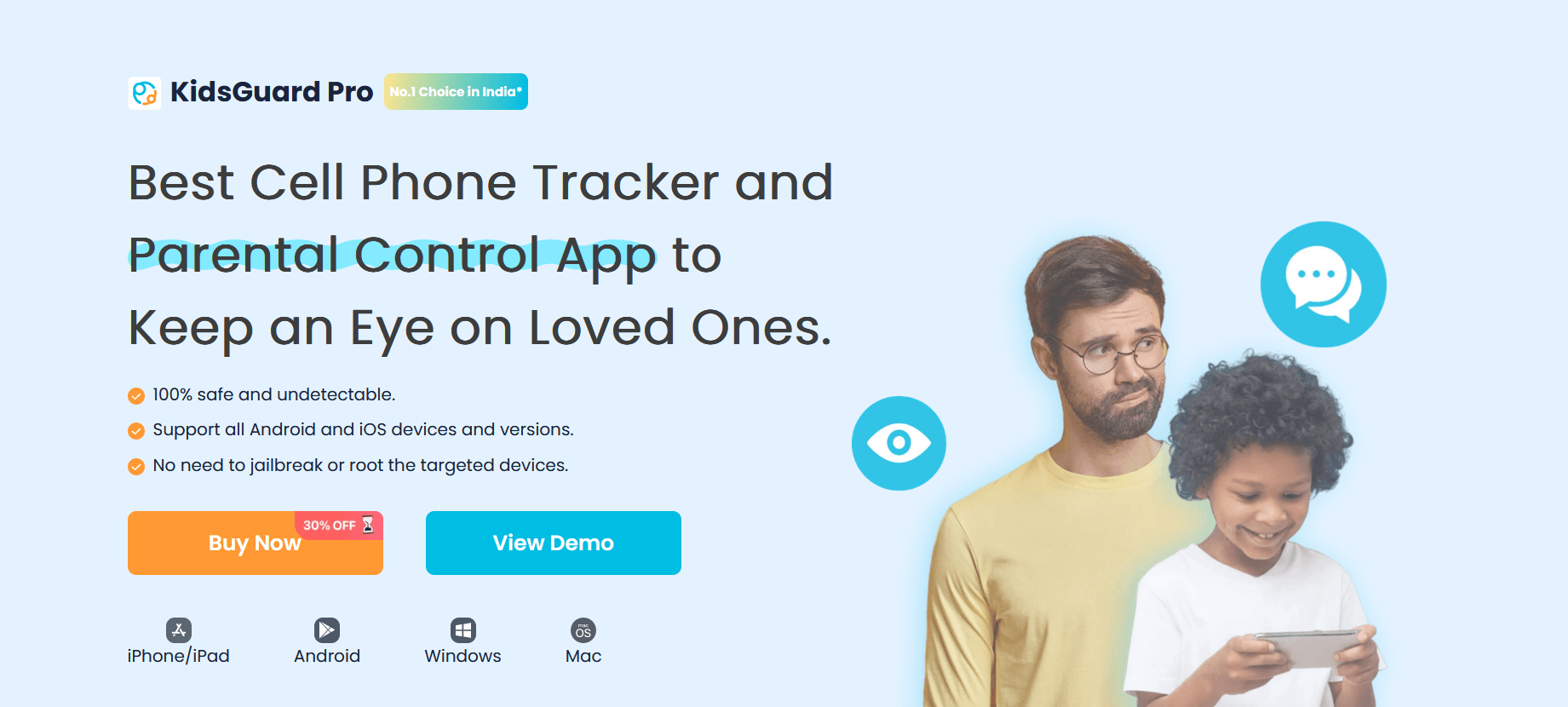 While using smartphones or accessing the internet, we all take care of our data security and privacy. As an adult, we are aware and mature to understand all kinds of frauds, hacks, and data breaches happening out there but in the case of children, we need to depend on the parental spy app which is helpful to tackle such situations.
Even though sometimes we, tech-savvy get tricked out by fake websites, whatsapp messages, malicious apps, etc but still we manage to maintain our privacy to protect our sms, photos, or any personal and confidential content to some extent.
Why Parental Control App Is Must?
As I have explained above, we can take care of ourselves but the main question is, what about our child? Have you ever thought about that what is your kid doing with his/her smartphone?
I know some might think about the privacy rights of children that we should interfere etc, but what if your child is getting bullied, abused, or involved with the wrong people, getting trapped in some kind of scam, misguiding whatsapp groups, playing any wrong video game, watching inappropriate content, etc?
In all such situations, it's our duty to take care of our child's smartphone & online activities until he or she has grown enough to understand what is right and wrong. But until that, the best solution for all this is parental control app.
These apps are really helpful to keep monitoring your child's activities like calls, messages, and browsing history and also provide safety features like GPS and location tracking. So as a parent, all must use parental control apps to tackle such unforeseen conditions. So, as per my recommendations, Kidsguard Pro is the best option to proceed with.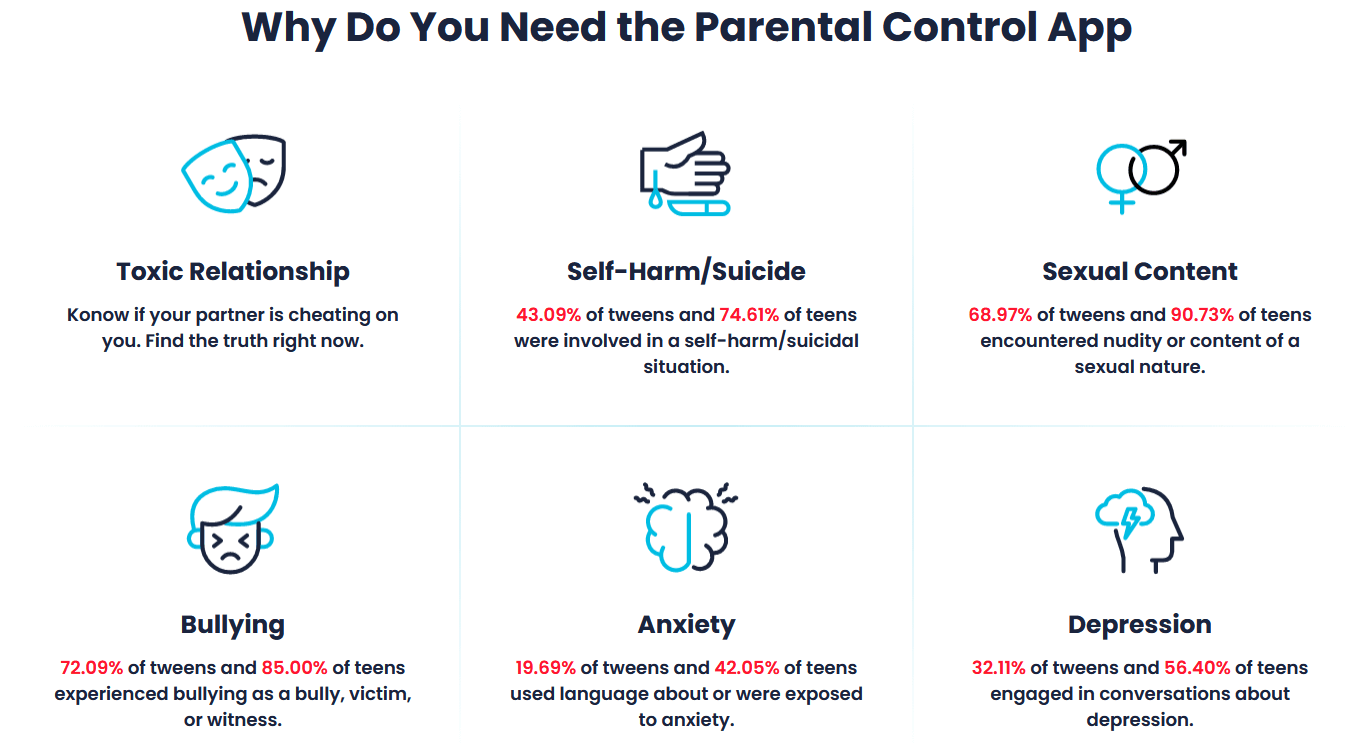 Why KidsGuard Pro Is The Best Solution For Parental Control?
KidsGuard Pro is a parental control app developed by ClevGuard. It gives parents certain tools to keep tracking children's mobile devices. It's similar to many other spy apps, but the best part is it's totally developed by focusing on features dedicated to child tracking & parental controlling. It can easily scan your child's phone and report all data to you, including contacts, messages, social media apps, and more.
One of the best things about the KidsGuard Pro parental control app is how easy it can install, no need to jailbreak or root your smartphone.  In just a few mins we can install it on any Android and iPhone device with 100% undetectable protection.
Best Features Of Kidsguard Pro?
Kidsguard is a complete pack of a variety of safety features. It helps us to keep monitoring all smartphone files at any time we want remotely. But here are some extensive features that are pretty helpful.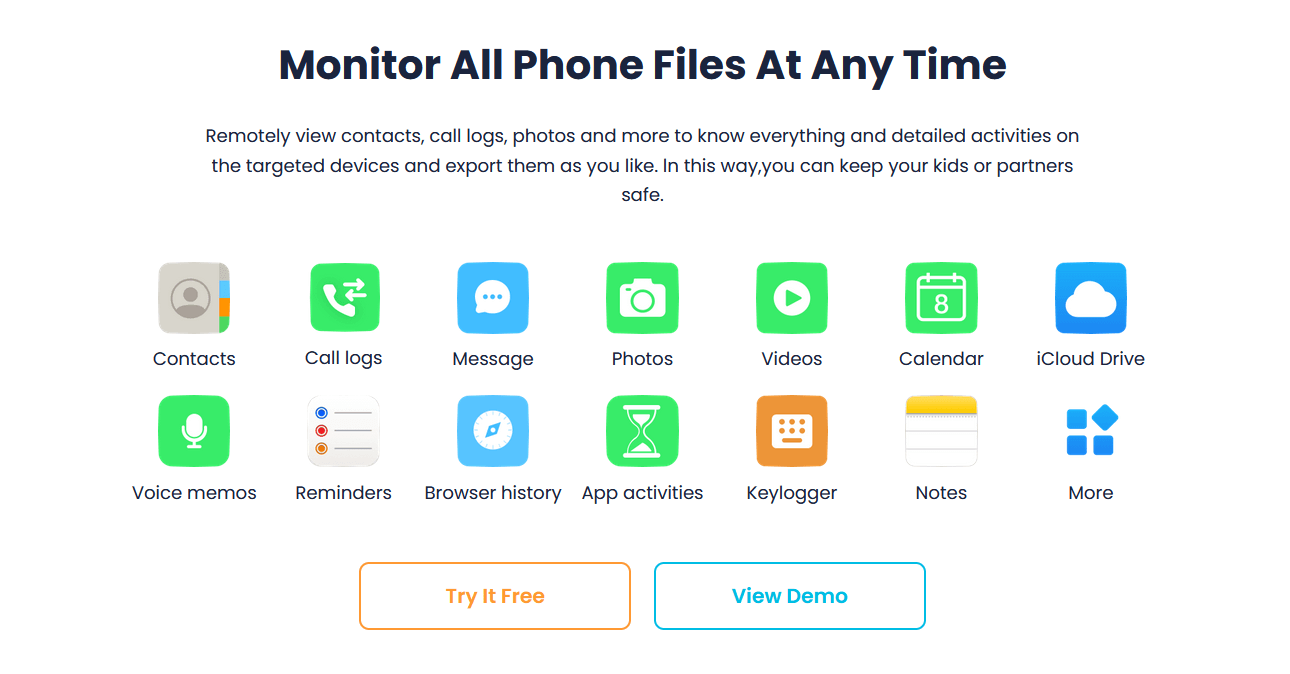 1. Call, Logs & SMS Monitoring.
Kidsguard Pro provides dedicated dashboard options to keep tracking all the incoming & outgoing calls, and also maintain all call logs, and messages monitoring. It helps to monitor all the conversations along with timestamps for each contact or unknown number.
2. Social Media Apps Monitoring.
Just like a previous feature, message tracking is important, But in today's world, there are countless social media platforms where children can interact with someone else. So with the help of Kidsguard Pro, we can easily track all major social platforms like Facebook, Instagram, Whatsapp, Snapchat, Telegram, WeChat, line, etc.  Just like other features, Kidsguard provides a dedicated dashboard to track all social activities whether your kid is using an Android or ios device.
3. Monitoring Web Browsing & App Activities.
Internet protection is a must when it comes to parental control, It's really hard to find out what a kid is surfing, because it's totally unpredictable we open any random website, and suddenly any adult pop-up appears, and any malicious content or app got downloaded. Kidsguard provides all such protections and also keeps track of browsing history, app activities, etc. Kidsguard provides you full list of all websites and apps your child visited and opened. So, do not get a hideout.
Apart from these three basic features, Kidsgurard provides many more features like Photos and video monitoring, voice notes, text notes, cloud app monitoring, reminders, calendars, and many more.
KidsGuard Smart Location Tracking System.
When it comes to child physical safety, it's really important to keep tracking your child day to day activities. But the question is how to track your phone while your child is going out for the whole day. The best part about the Kidsguard tracking system is they provide 4 different modes.
Track GPS Location: Easily real-time location tracking for Android and iPhone with detailed address, time, and date.
Check Location History: To keep track of location history with map and list view.
WIFI Location Tracking: With Wifi location tracking we can easily check where the device is traveling and where the device got connected and for how long.
Setup Geofence: This is an amazing feature, we can easily set up zones. Whenever the target device crossed that zone on the map it will notify.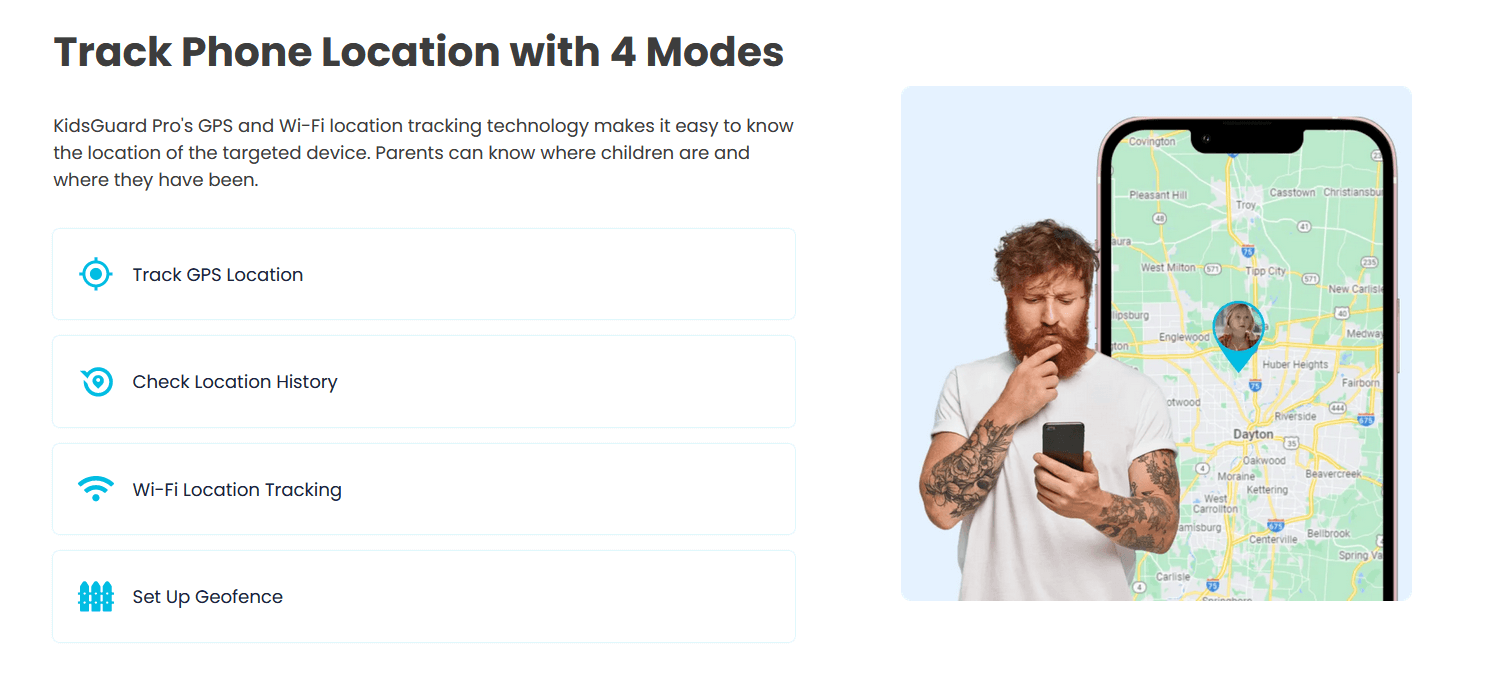 Some Powerful Remote Features Of Kidsguard Pro.
Kidsguard provide you with some incredible remote features which we can use to control the target device. By using these features easily do such things like
1. Record Phone Calls: Remotely record any phone call of the target device.
2. Capture Screenshots: We can easily capture screenshots anytime and sync them automatically on the dashboard.
3. Take Secret Photos: Remote take photos from a phone camera anytime.
4. Listen to Phone Environment: Record nearby sounds remotely of the target device.
5. Record Phone Screen: With this feature, we can easily record phone screens remotely and secretly.
6. Sensitive Words: With this feature, we can set up real-time alerts for all the sensitive words entered or received in the target device.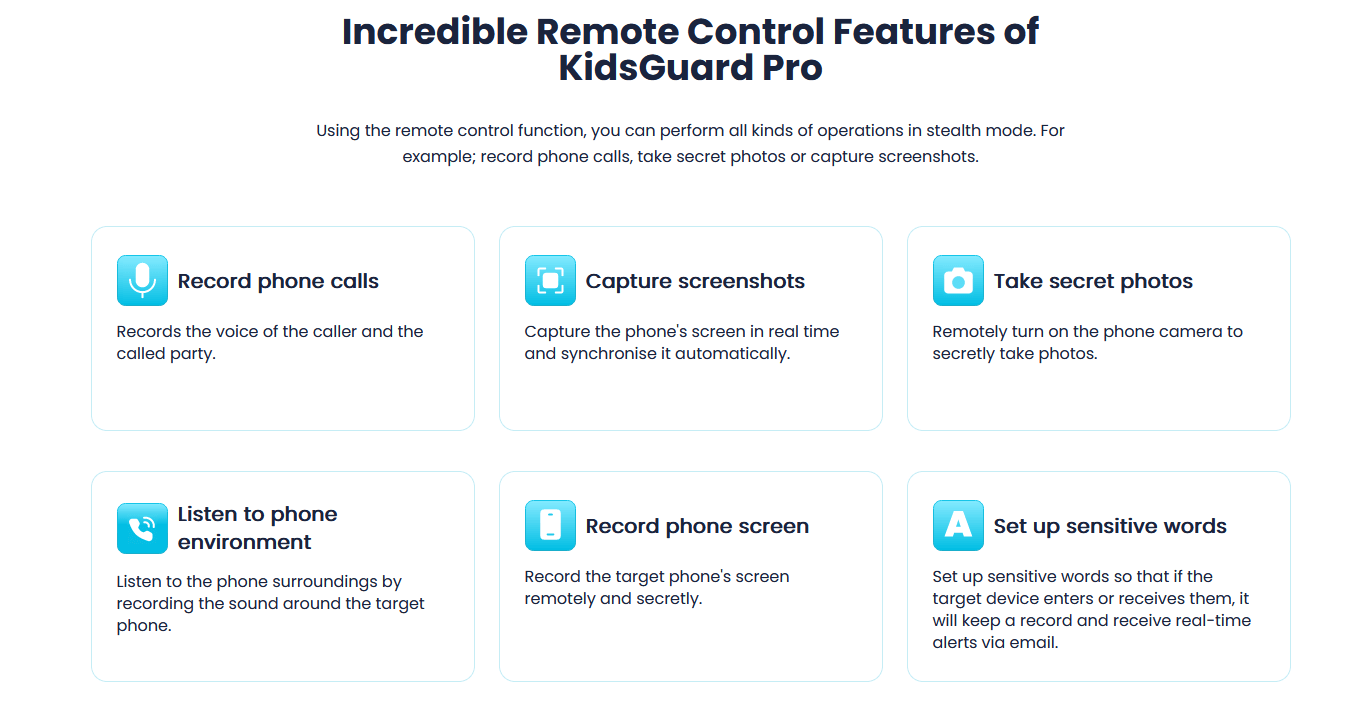 Our Final Verdict – Is KidsGuard Pro Really Helpful?

As we all know parental control is a must nowadays, It's totally up to us like to what extent we want to keep track of a child's activity. The are some features of Kidsguard that are really amazing. But some features might feel like it's way too much invasion of privacy like real-time photos, videos, and screen capturing. I am not neglecting these are bad features they are helpful but it's totally up to parents' decision and choice what to track or what not.
So in conclusion, all I can say is Kidsguard is an amazing tool with perfect features and can be helpful for all those parents who are looking for the best partial control solutions.