Today, personal computers have found their way in all aspects of life. No matter if you are a student or a professional in any field, a computer is a must need everywhere. A very important component of a personal computer is its software.
Windows has been a primary Operating System all over the world. Windows is a GUI based Desktop operating system that runs on almost all computers of the world. Windows OS has evolved a lot from its earlier versions and now many people run Windows 8.
The Windows 8 is a quite recent windows version if not the latest. It ditched the signature start menu in favor of a start tile screen. Windows 8 also brought many UI changes. Most users didn't welcome these changes as one of the most hated feature of Windows 8 is the charms bar.
Charms Bar appears on the right side of the screen when the mouse is dragged from there or the pointer hits the top right corner. It is annoying as most users accidentally turn it up and there is no way to turn it off using Windows settings.
Hence, If you are a Windows 8 users, and are looking for a way to disable Charms bar on windows 8, or stop it from accidentally showing up again and again, we have a solution for you.
How To Remove Charms Bar On Windows 8.
Given below is the best way to get rid of he annoying Charms Bar in Windows 8. Follow the steps to remove Charms Bar from the right side of your screen.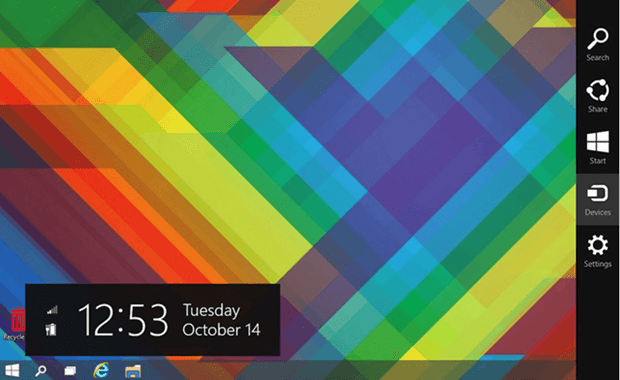 Steps To Disable Charms Bar On Windows 8:
Step 1. Download and install Classic Shell by Clicking Here.
Step 2. Then, after installation Right click on the newly installed start button and select settings option.
Step 3. Click All Settings button and then go to "Windows 8 Settings" Tab.
Step 4. In this tab, tick the "All" option under "Disable active corners"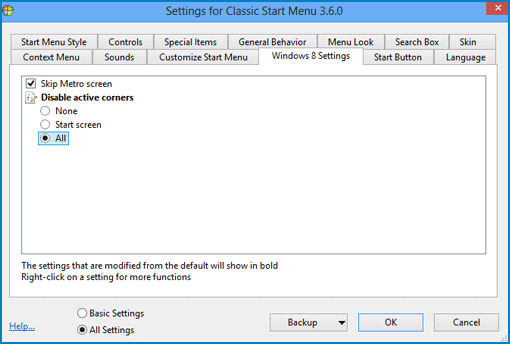 Step 5. Click "OK" to apply these changes and you are done.
Hence, now you have successfully disabled the annoying Charms Bar in Windows 8.
Note : If you are still seeing the Charms bar Randomly popping up on the right side of your screen , try to turn off "Enable Edge Swipe" in "Control Panel > Mouse".
Must Read:- Windows Tricks And Tips
In conclusion, this is the simplest and easiest guide on how to disable Charms Bar on Windows 8. For any help or assistance, feel free to contact us or write to us in comments below. Also, share with us your experience with Windows 8.