Stock Camera app is the built-in camera in any Android phone. It works fine and lets you access some exclusive features on your phone. If you want some unique and extra features, then there are many alternative camera apps in the "Google play store". Photography these days is very famous. Everyone likes to capture moments of their life. So they can share those moments with their friends and family on Facebook, Whatsapp, Instagram, and Google+. Some users do not enjoy using the Stock Camera app because of its fewer features. There are numerous Camera apps for android on Google play store. But it's a little tricky to pick a good one for your Phone. Here we are going to list Top Best Android Camera Apps with their features.  
List Of Best Camera Apps For Android.
1. Camera360.
Camera360 is best among all camera apps for android. With 100 classic filters, you can make a photo more interested. 3D contour helps you to highlight those facial features and shine in 3D. In a photo editing option with more than 10 adjustment functions, you can improve your skills.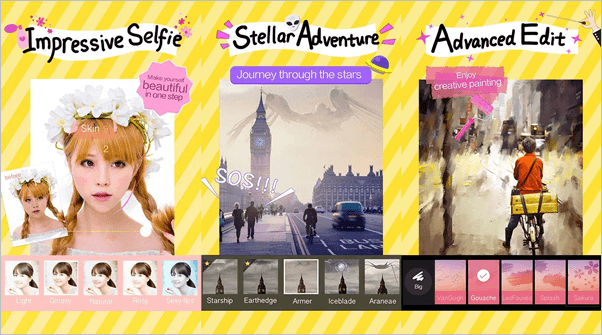 2. Cymera.
Cymera lets you take the best selfies with 100 live filters. It provides you with 7 fascinating camera lenses such as fisheye, toy/Lomo camera and more. Just like Photoshop, you will get the most powerful photo editing tools and features. You can also combine photos in 1 story with the collage feature. Cymera is a good option in camera apps for android. It also provides you with 15 sophisticated watermark designs, automatic face recognition, skin correction, etc.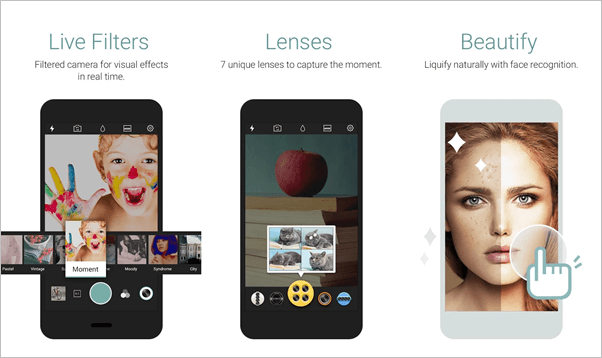 3. Retrica.
With Retrica's beautifying filters and silent mode, You can take beautiful selfies anywhere and anytime. It offers Filters for Selfies, Beauty Functions, Stickers, as well as  Collage.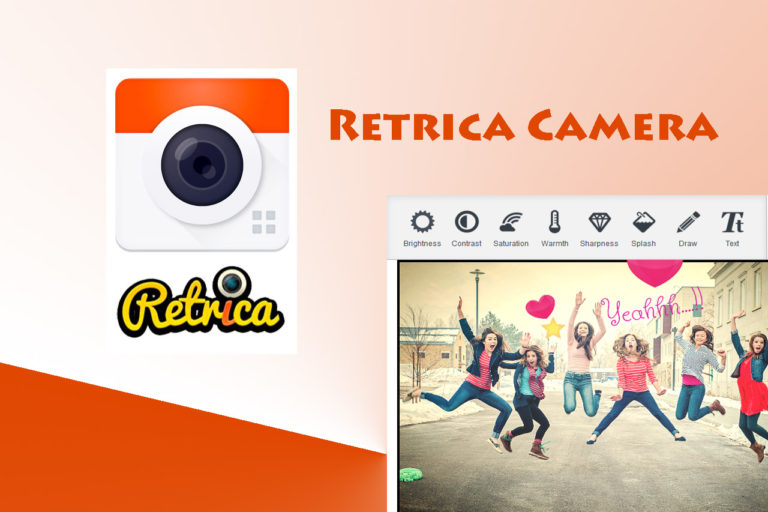 4. HD Camera Ultra.
HD Camera Ultra is another best camera app for android. It let you take the best shots on your Android phone. They allow you to make perfect pictures very simply and fast. It has many features such as auto-focus mode, white balance, optical/digital zoom, exposure and many more.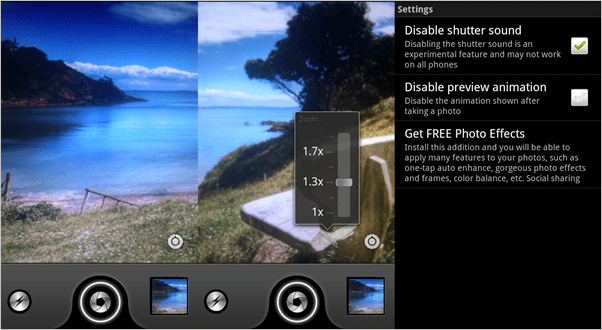 5. VSCO Cam.
VSCO is a leading alternative to other camera apps for android. It helps you to shoot the best photos, edit and share your photographs with friends. You can take your photography on an advance level by using VSCO. In the play store, you can buy numerous preset packs. VSCO lets you view image data like preset used, date and more.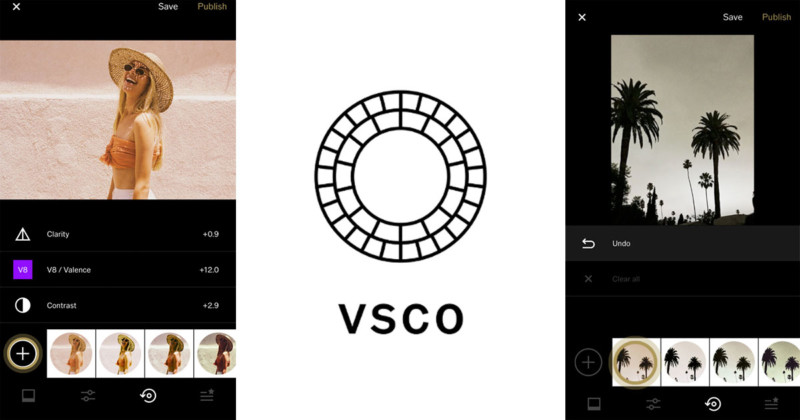 6. Candy Camera.
Candy Camera lets you take beautiful selfies anytime and anywhere. There are several beautifying filters and silent mode. With real-time filters, you can make your skin looking amazing. To make changes between filters, you have to swipe left and right. On the other side, there are additional editing tools for the perfect selfie. Also, it provides you with a huge sticker collection and collage feature.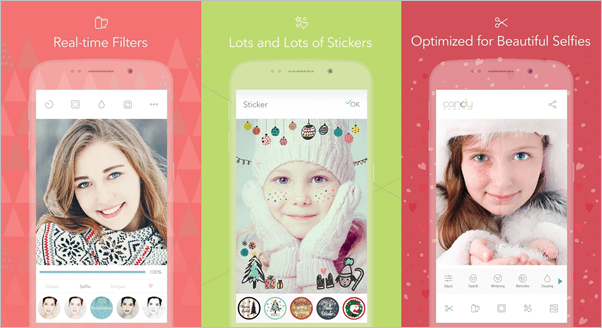 7. Google Camera.
Google Camera is one of the best alternative camera app for android. With auto-HDR+ it allows you to take fantastic pictures. Quick swipe helps you to switch quickly between video and photo mode. On Nexus5X and Nexus 6P you can make slow-motion videos in 120fps and 240fps. You can also take burst shot with a single click and let you make GIFs automatically.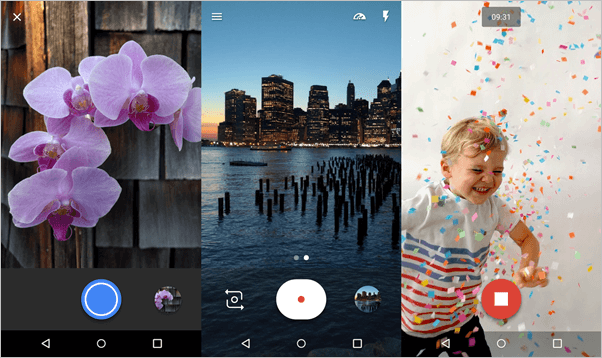 8. Camera MX.
Camera MX is a complete solution, popular alternative camera app for android. You can create and edit photos with the help of this amazing app. It has a simple user interface. You can record videos and photos quicker and easier. Live shot lets you create moving photos. There are many features such as shoot the past, scene modes and many more.
9. Open Camera.
The open camera is another fast and easy to use camera app for android. It has an option to auto-stabilize so that your photos are perfect all the time. Edit your photos as like you with numerous photo editing tools. You can make it click photos remotely by saying the word 'cheese'.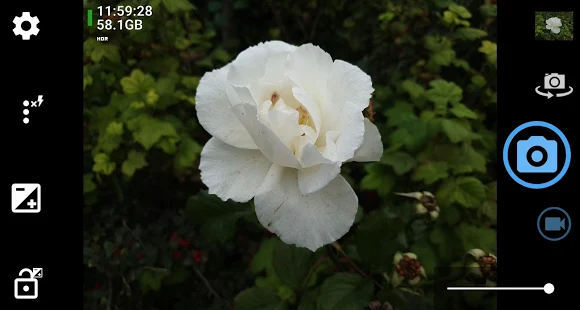 10. Camera Zoom FX.
Camera Zoom FX lets you do a stable shot, action shot, collage, photo composition and more. With various photo filters, you take the best shots. In the free version, you will get photo editor, time-lapse, photo frames, photos filters and many more. If you want to get extra features, then you have to buy the premium version first.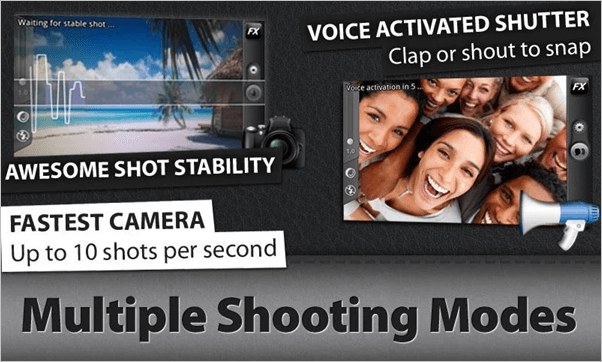 Hence, these Camera Apps for Android will help you enhance your photography experience on the smartphone. For any questions or suggestions, Write in comments below.