Battle Royale Games have become so popular in a concise span of time. It is because this genre has been a complete package for gamers. There is a complete mixture of action, exploration, survival, scavenging and thrill elements. With last-man-standing gameplay, the player will have to battle with each and every other player in order to win the match. But, it is totally upon you if you want to play solo or squad. All the players will land on a large map. The area will keep shrinking. You have to keep yourself inside a safe area to avoid elimination from the game. During that, one must keep battling and eliminating other players from the game.
Nowadays, most of the youth are searching for best battle royale games. The increasing popularity of games like PUBG and Fortnite is proof of it. These games can be played in PCs' as well as Smartphones. But some people want to play these mobile versions of the game on PC for better graphics they can use Android emulators & iOS emulators.
Although, PUBG is the most played Battle Royale game all over the world. But, it has been banned in a few countries. After that, people are ready to explore new games. Because of this, we know that you might be searching for that. So, here are the top 10 Best Battle Royale Games for Android & iOS which you should play to have an experience you never had before. In this list, we have ranked the games according to their gameplay, compatibility, graphics and other important elements.
List Of The Best Of Battle Royale Games.
1. PUBG.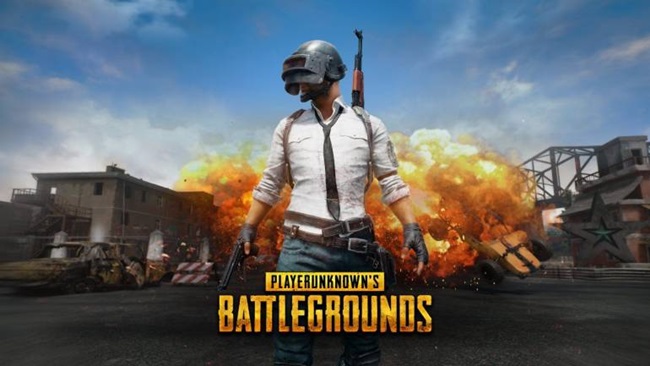 PUBG is one of the best and popular Battle Royale games at the moment with a rating of 4.5 out of 5. It is available free for Android phones, and the graphics of this game are quite realistic. It is a very high-intensity, a multiplayer action game on Android. You have to drop in an area where you need to gear up and compete with the other players to survive. There is an epic 100-player battle, fast past 4v4 team deathmatch and zombie modes where the last one standings win; you can be that one.
There are four different massive unique battlegrounds where the players can play. It has a variety of categories in which you can play solo, duo, and in 4-player Squads. 17 million users have downloaded it till now. This game has also won the Mobile Game of the Year 2018 – Golden Joystick Award and Best Game of 2018 – Google Play awards.
Download: Android & iOS (Free with In-App Purchases).
2. Fortnite.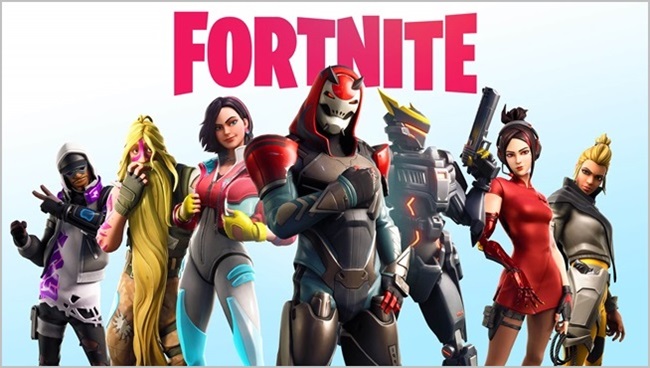 Fortnite is the second best and most popular Battle Royale game at the moment which is available for free. It has four different kinds of soldier: soldier, constructor, ninja and an outlander. Each type of hero has its own skulls and special features. The most important feature of this game is that it constantly changes with new updates and content released every week, which drives it so much to popularity because the players have new weapons and other things every week. This also raises the excitement of the players. In this game, the player drops down in a map with other 100 players. The player then starts searching for the material to make structures, weapons, and objects of all sorts like wood, metal, carbon, etc. for their defence and the last one standing wins the battle.
Download: Android & iOS (Free with In-App Purchases).
3. Call of Duty®.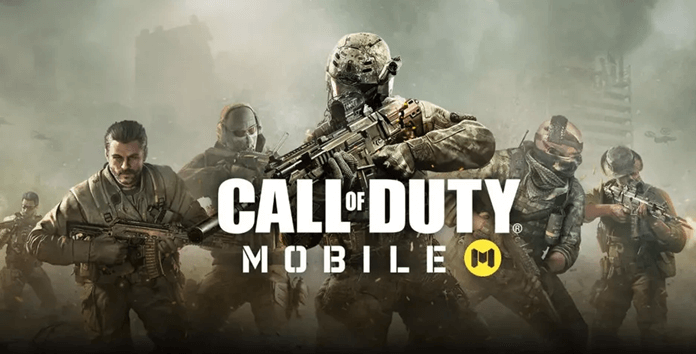 Call of Duty®: Mobile is a pretty exclusive and popular Battle Royale game. It has several maps and modes available within the game. You can download it for free from the app store. Most importantly, it is free to play mobile game. There are different games like 100-player Battle, Team Deathmatch (5vs5) and other occasional modes available. Also, different maps are available. You can in any of your choices. Plus, there is a ranking system included which will rank a player. The rank will increase as you will progress in the game. It has support for a lot of customizations. You can make multiple unique loadouts. A squad can be built with your friends. You can invite them or accept an invitation. It has a chat option as well.
Download: Android & iOS (Free with In-App Purchases).
4.  Free Fire.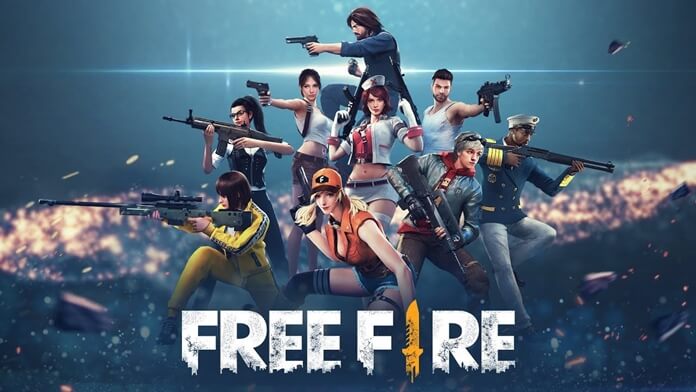 Free Fire is the newest addition in the Battle Royale Games. It was first launched in the year 2017. But, it has become one of the user's favourite in no time. The gameplay is quite smooth and attractive. There is a wide range of weapons available in it. It has different game modes like 50-player battle royale and 4vs4 team deathmatch. Also, it is completely free to play. But, there are some in-app purchases which you can make if you want to. The players will be dropped in a remote where they have to survive. The last-man-standing will win the match. You can explore the maps with vehicles or on foot. There's one thing that you should keep doing i.e. eliminating your enemies from the match and being in the safe zone.
Download: Android & iOS (Free with In-App Purchases).
5. Clash Royale.
Clash Royale is one of the best Battle Royale games which is available for free with a rating of 4.5 out of 5. This game is made by the same people who made the Clash of Clans. It is a real-time multiplayer game starring the Royales with your favourite clash characters. You can collect and upgrade dozens of cards featuring the Clash of Clans troops, spells and defences as well as the Royales: Princes, Knights, Baby Dragons and more.
In this game, you have to knock the enemy King and Princesses from their towers to defeat your opponents and win Trophies, Crowns and glory in the Arena. You can also challenge your own clan-mates and friends in a private duel. It also provides the feature to construct your ultimate Battle Deck to defeat your opponents with which you can progress through multiple Arenas all the way to glory. 26 million users have downloaded this game till now.
Download: Android & iOS (Free with In-App Purchases).
6. Pixel Gun 3D: FPS Shooter & Battle Royale.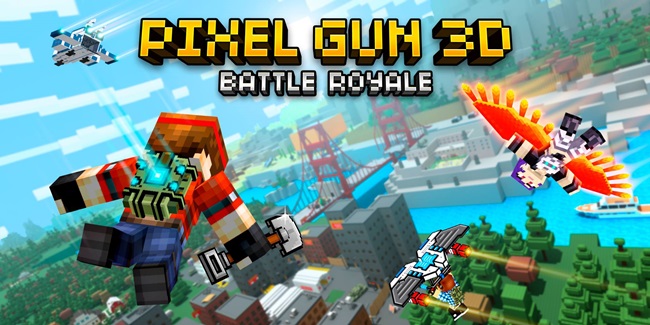 Here is our fourth pick of the top 10 best Battle Royale games. It is a 3D Battle Royale game which also has a rating of 4.5 out of 5. It is a first-person shooter where you shoot in a cube, and here skill is everything. You have to jump, fly and fire in which you can also use fighting pets. The fast multiplayer and high FPS is guaranteed in this game. You can build your own clan forts where you attack your enemy and also defend your own forts using clan chests to get different items to strengthen the fort. It has also had features like 11+ modes, 200+ weapons, 40+ gadgets, 180+ creative skins, and 50+ pets. 5 million users have downloaded this game till now.
Download: Android & iOS (Free with In-App Purchases).
7. Rules Of Survival.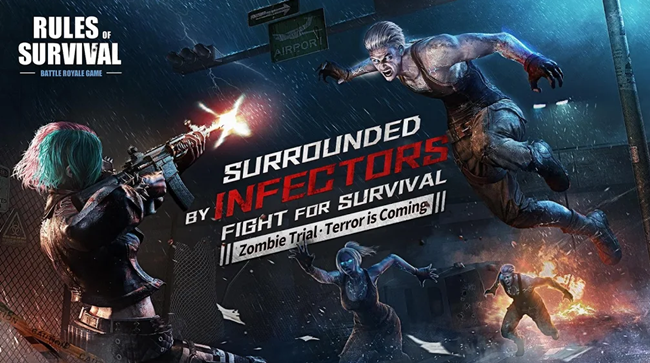 Rules of survival is a highly recommended Battle Royale game that you must try, and it has a rating of 4.1 out of 5. It is a game which gives you a totally different and exhilarating battle royale. Developers launched Epic Clash mode recently. It has battlefields with skills like zombie status, infrared scan, super body. It provides a new 8×8 km map that allows 300 players to battle on a wide variety of terrains where only one will survive. There are more features like IMBA Vehicles, Weapons and flexible construction mode with the revive system. 1.6 million users have downloaded this game at the moment.
Download: Android & iOS (Free with In-App Purchases).
8. Hopeless Land: Fight for Survival.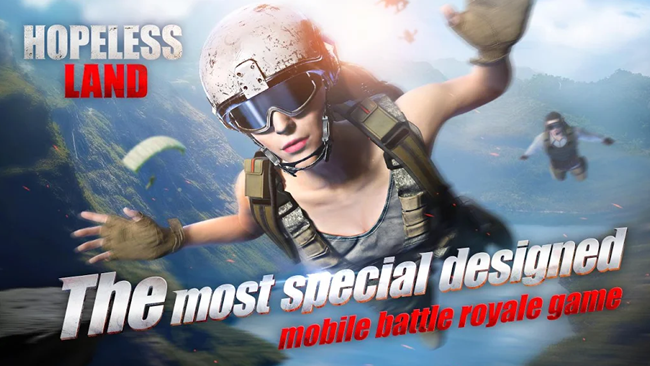 Hopeless Land, a game offers a lot, is a Battle Royale game which has a rating of 4.2 out of 5. It is available for free with low device requirements and easy controls. This is a more fatal and strategic game with simpler operation. You go to a hopeless island in a helicopter with other 121 players, but there is only one survivor who survives at the end. It has features like special design battlefield with various Asian style buildings and brand new vehicles. It has a simpler user interface in which all the movements are designed with motion capture. 1.1 million users have downloaded this game.
Download: Android & iOS (Free with In-App Purchases).
9. Creative Destruction.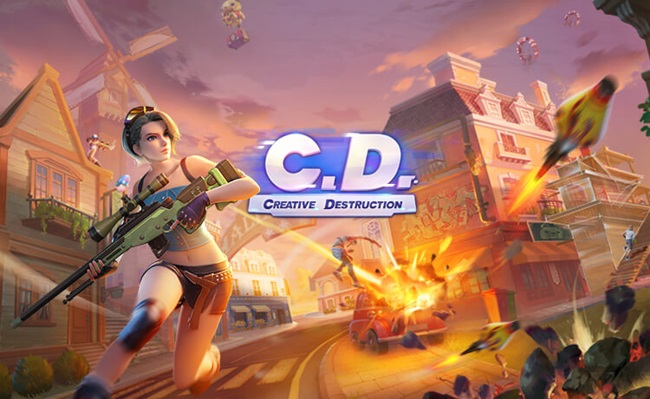 Creative Destruction is a Battle Royale game which is available for free on the Google Play store, and it has a rating of 4.4 out of 5 on it. It is a sandbox survival game that features the utmost fun of building and firing. There are various gameplay modes, weather and time systems which bring a new level of hectic fun. You can either fight like a lone wolf or team up. There is much to be explored in this game. 0.8 million users have downloaded this game till now.
Download: Android & iOS (Free with In-App Purchases).
10. Pixel's Unknown Battleground.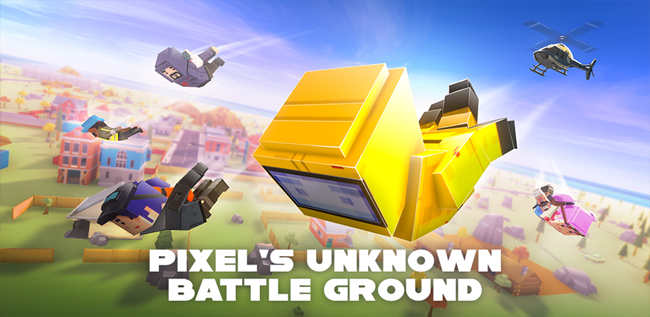 Pixel's Unknown Battle Ground is a military block Battle Royale game with a rating of 4.2 out 5. It has a pixel battle arena in a block city where the players have to fight for survival. This game comes with different types of skins and full HD graphics. It also has a feature which allows the user to make a low setting of the graphics for the weaker phones. It has other features like 30+ weapons, auto shooting, and massive map size. 0.4 million users have downloaded this game till now.
Download: Android & iOS (Free with In-App Purchases).
We hope you all liked these Battle Royale games for Android and you must have downloaded the game which you found to be best.