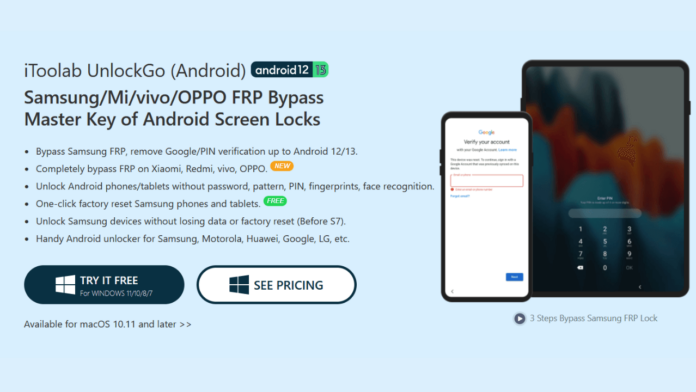 Phones are likely a necessary part of our daily lives. They let us talk to family, and friends, take images, and many more things you can explore from this device. If we have important data stored in our phones, then we must include some form of security on it to protect our data wisely. We all commonly use fingerprints, face locks, lock screens, and more for device protection. But it becomes problematic when we forget our locks.
In that case, we need to reset Android pattern unlock or other pin-based protections by factory reset. But doing that is not so easy task in some cases like Samsung and many other brands provide factory reset protection (FRP). To bypass that protection we need to use 3rd party tools and software to unlock FRP on Samsung or other brand devices.
Why Do You Need To Unlock Samsung FRP?
Security is a mandatory thing that protects your privacy or important data on your device. Sometimes these security measures can be a problem if you by chance lock your phone or forget your password. Sometimes after forgetting our password, we try many attempts or perform a factory reset. If we talk about FRP lock stands for Factory Reset Protection. This is a security measure to prevent a thief from conducting a factory reset of a missing phone or stolen one.
iToolab UnlockGo Android – Easy Samsung FRP Tool is a powerful tool that will help you to bypass any Android lock, including Android pattern unlock, PIN, password, Google account verification after reset, fingerprint, and face lock. The Samsung FRP tool is the best tool to bypass the security feature. This feature helps you to use your phone again if you have reset it. After resetting sometimes we face issues when we can't remember the Google account that was on it before.
All the Android Samsung devices with 5 to 13 supported. If you have bought a second-hand phone and forgotten your Google account password or bought a second-hand Samsung phone, all your Samsung FRP problems will be solved.
HOW TO BYPASS SAMSUNG FRP LOCK USING ITOOLAB UNLOCKGO.
Step 1. Connect The Samsung Device To The Computer.
The first step is to Download and install UnlockGo for Android on your computer, then connect your Samsung device to your PC with a USB cable.
Now, select the feature Remove Google Lock (FRP). Click on the "Start" button to continue.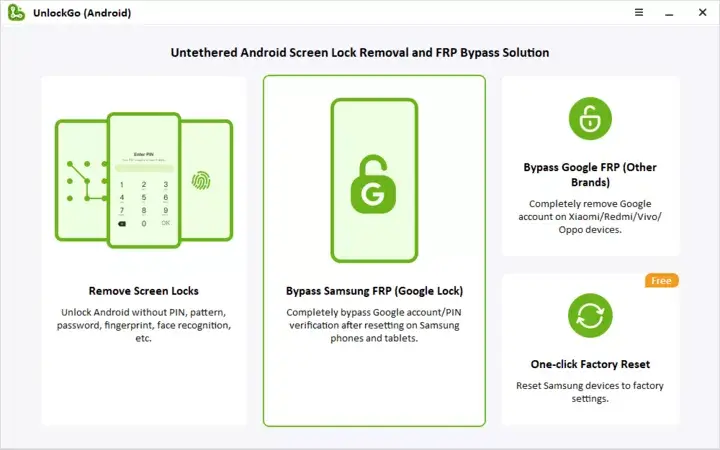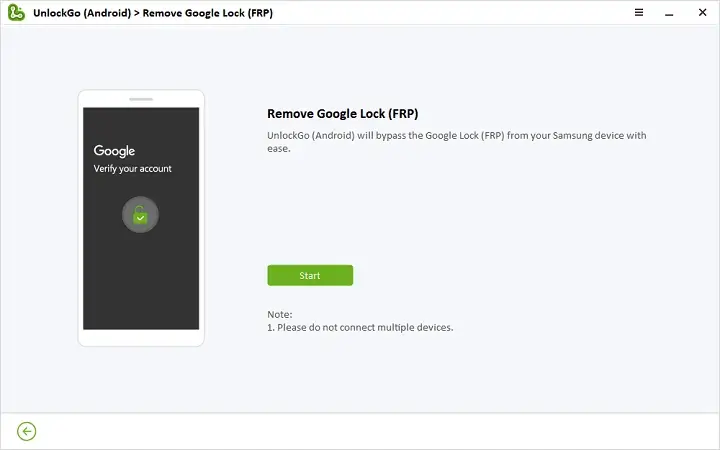 Step 2. Select The Appropriate Solution To Bypass FRP.
In this step, you have to choose from different unlocking options depending on your Android Phone.
We strongly recommend you try the first option which is a simple and easy technique that allows you to remove Samsung FRP locks on Android 5-13 in 3 minutes.
Click Next to continue.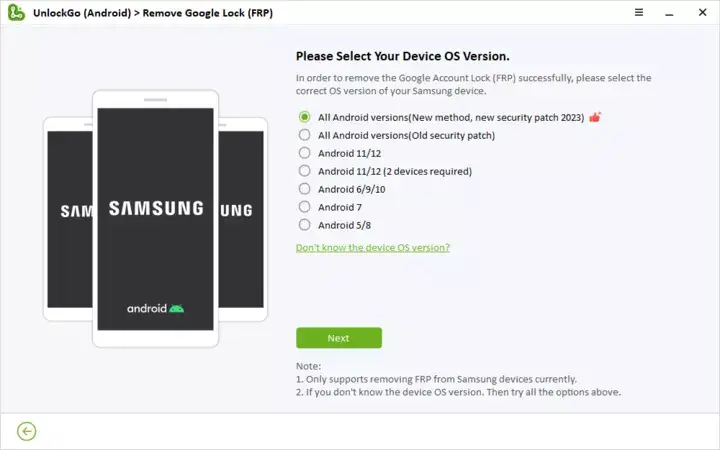 Question: What's The Difference Between Option 1 And Option 2?
Samsung recently came up with the March 2023 security patch for its Phones and Tablets. If you already updated with the latest security patch on your Samsung device,
Please choose option 1 to bypass Google lock.
If your security patch level is outdated or below March 2023, then you can choose the bypass option according to your OS version.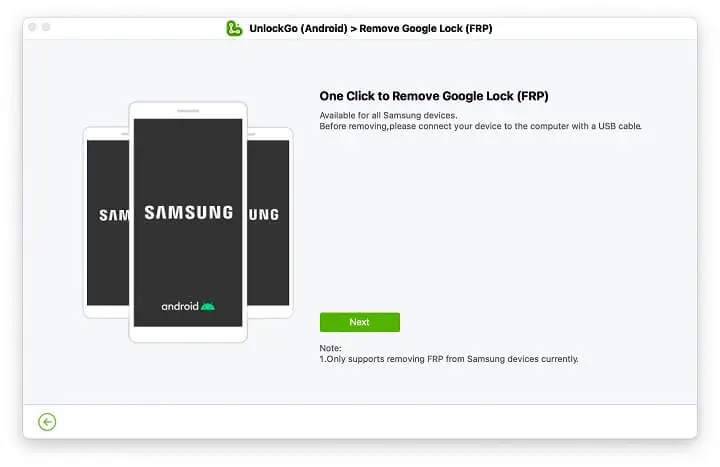 Step 3. Enable USB debugging when locked by FRP.
Now, within a few seconds, you will see a pop-up window with instructions.
Using the secret code to access the hidden Samsung Diagnostics Menu.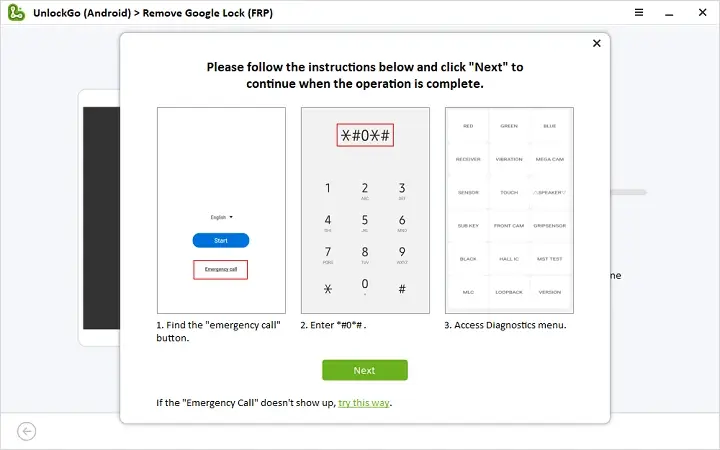 UnlockGo for Android should help you enable USB debugging on your Samsung device.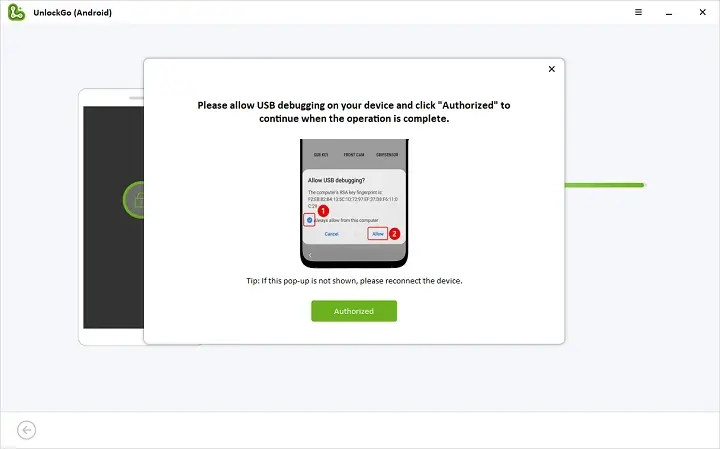 Step 4. Done! Google FRP lock removed.
After you've allowed the permission, the Google account verification screen should be bypassed in a few seconds. The Samsung device will be rebooted automatically.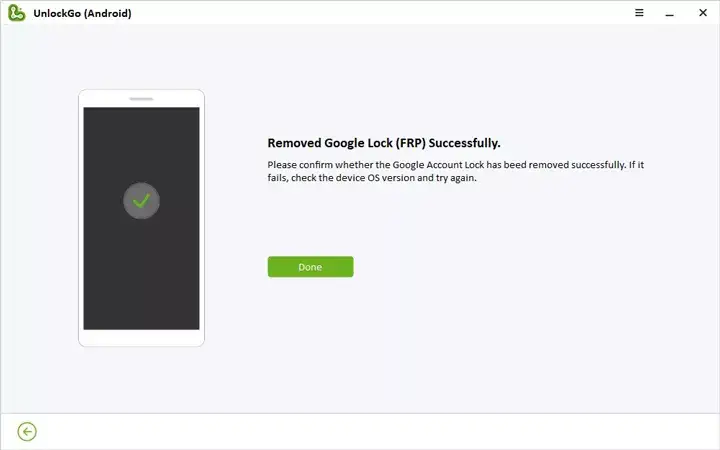 Other Alternatives of iToolab UnlockGo Android.
Tenorshare 4uKey:
This is not unusual to have Tenorshare 4ukey in this list. Because we are discussing alternatives then may also like tenorshare 4ukey. This is a consistent solution over the years for various locks on your Android device. This tool has useful features and hands you complete control over your device in a moment.
Foneazy Unlockit:
Foneazy Unlockit  Provides a one-click Samsung FRP bypassway without booting into recovery mode. Foneazy doesn't require downloading any third-party or unusual apps. This works on Android 6 to 12 and all Samsung devices without any data loss. Besides, there are detailed step-by-step with proper guidance based on the Android version of the one-click unlock fails. Foneazy Unlockit Android has a complete customer satisfaction policy with a 30-day money-back guarantee.
DroidKit:
Droidkit is another alternative for iTool Unlock Go. Droidkit will lift off the FRP lock option on your device in a simple way. This will work well on both Windows and MacOS. This tool takes your privacy seriously and also recovers lost data without backup, fixing Android system issues and you can test features of this tool with their free plan.
UnlockJunky:
Unlockjunky is one of the last alternatives on our list. UnloackJunky makes it easy to unlock your device. The main aim of UnlockJunky is to provide users with a fast and effortless Bypass service with some simple steps. You simply need to choose your device and the unlock type. Now, Download the software on your PC and enjoy UnlockJunky best best other services at affordable prices. This tool also provides 24/7 live chat and support for their users.
Conclusion:
This is the best feeling for us when you finally Bypass Samsung with our mentioned FRP Tools. The above-mentioned tools will help you completely in a simple manner. But if you want to unlock your device with the Samsung FRP Bypass Tool, Then you are just one click away from unlocking your phone with iToolab UnlockGo Android – Easy Samsung FRP Tool.