Facebook is the biggest social media network, as we all know. Facebook has several different features for connecting with our friends and other people by using Pages, groups, and events.
Mostly We like several different pages just for getting the latest updates and news. But the pages have any particular name which we remember, and almost every brand, website, or any person has its official page.
Like we have the Safe Tricks Page on Facebook. But instead of all the Facebook pages, have you ever seen any page without a name means a page with no name and having a black portion on the actual page name place?
Now today, I am going to discuss creating your own Facebook page without any name, just a black place instead of a name with easy and few steps. If you want to create your new page, follow all the below given easy steps.
How To Create Without Name Facebook Page?
Log in to your Facebook account, then visit the option to create a new page or Click here.
Now Choose any Specific category which you want.
Now Simply copy the below-given character.
ٌٍٍِّّْ
After the copy above, the character pastes them in place of the Page name.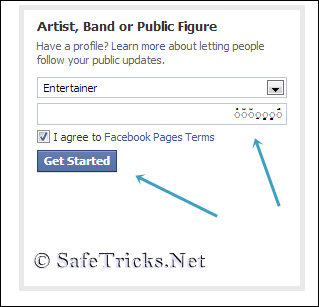 After it, check the box of terms and conditions and click on Create Button.
Your new page will create with a name that looks like it, as shown below.

Now go to Edit Page >> Then Update Page Info.
Click on the Edit button of the Page name.
Then remove all the present characters inbox of the page name.
After removing it, press the Enter button.
Refresh your page again, and the page name will disappear, and you have done.
Make sure that all the characters of the page name have been removed successfully. If you are not sure, then check them on both Mozilla and Chrome because sometimes Mozilla shows no character but Chrome shows. So make sure that the page name will get disappear.
Must Read:- How To Make Single Name Facebook Account
I hope you find this trick fantastic and working. If you have fun with this trick feel free to share it with your friends and others on Facebook also and impress them 🙂 If you have any questions feel free to ask me in below comment box.