The Internet has become a part of our life. We daily use the internet for different works and without the internet, our PC or other devices become boring if we don't have any offline work to do. So we use the internet for accessing Google, Facebook, YouTube, and other sites from desktops and laptops as well.
We use broadband, wireless connections like WiFi, or we use mobile phones to access the internet with USB or WiFi. But whether a USB connection or wireless we install device drivers but we may face problems in the connection setup.
So the dial-up connection is the only simplest way to start using the internet from mobile phones or Broadband. Today we will help to set up a dial-up modem connection if you don't know how to set up and use the internet with a better speed than must read and follow the below-given steps.
How To Create Dial-up Connection In Windows?
Dial-Up Connection for mobile.
Part 1:- Network And Sharing Settings.
Click on Start Button >> Then open Control Panel >> Then change the view from the top right corner to Large Icons.
Open Network and Sharing Center and click on Set up a new connection.
Then Click on Setup a new dial-up connection.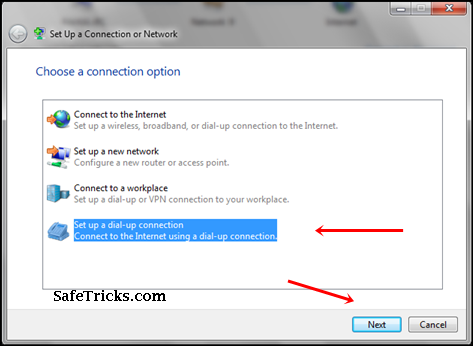 Now a new settings window will appear. Where you have to fill in the correct information as shown in the below image.
Dial-up phone no:- *99# (Default no) Or *99***1# it may vary for different countries.
Username and Password in case if your ISP connection is secure then add both or otherwise leave it.
Add your connection name and click on the connect button.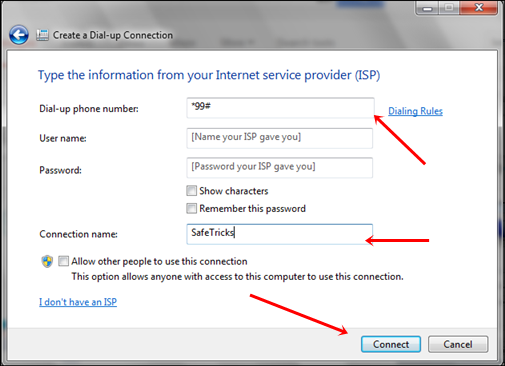 If you are successfully able to connect with the internet then it's good otherwise also follow Part 2 settings for Phone settings.
Part 2:- Phone And Modem Settings.
Open your Control Panel and then Phone and Modem.
Then add your Country code or Area code (Postal code) and click on the OK button.
Again open Phone and Modem >> Then Switch to Modem Tab.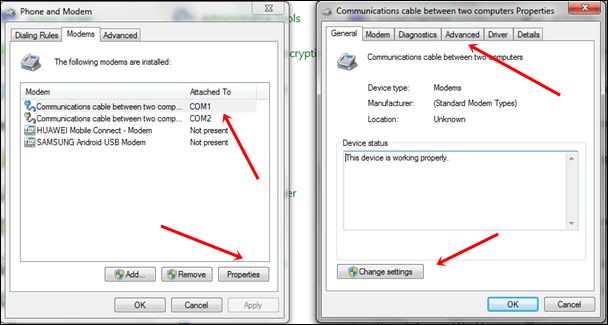 If your Device is available and attached to any port then select it and click on Properties.
A new window will appear then click on the Change Settings button.
After refreshing the window will appear again. Now switch to Advanced Settings Tab.
In the Advanced tab, there is an option of Extra Initialization Command.
AT+CGDCONT=1,"IP","Mobile-APN-Here",<cr>
Replace Mobile-APN-Here with your service provider APN (access point name)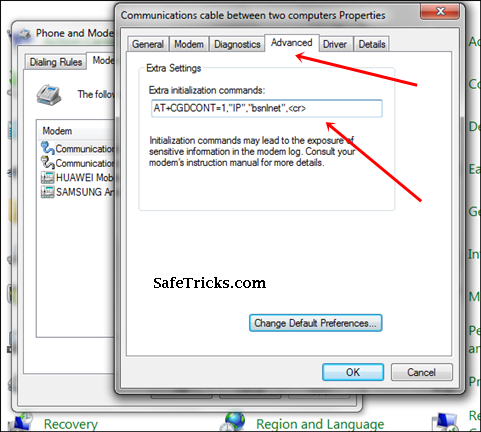 Just like we are using Bsnl connection on my mobile phone so bsnlnet will comes in the place of APN and in the same way your connection will come.
Then paste this command and save your settings and make sure that the command should be correct otherwise the internet will not works.
Dial-Up Connection for Broadband PPPoE.
If you own a broadband connection and want to connect to the internet via a dial-up connection, then here are the steps to do so.
Step 1. Click the start button and open Control Panel.
Step 2. Then, Open "Network and Internet" and choose "Network and Sharing center".
Step 3. Now select "Connect to the Internet" and then click Next.
Step 4. Select "No, create a new Connection."
Step 5. Now select "Broadband (PPPoE)" and click next.
Step 6. Then enter the username as well as password provided by your ISP and set a name to your connection.
Step 7. Click on connect to save your setup.
After doing all these settings we hope you will be able to use the internet with a dial-up connection for your mobile or wireless devices as well as Broadband. If you face any issue while setup please share with us in the comments.