Android-based smartphones are widely used because the high-quality product is available at a reasonable price. Android smartphone also has amazing features which make our daily life easy. We can use android for education, business, entertainment, and for many other purposes.
Android devices are the most popular because we can manually add features by installing Android apps, even we can enjoy playing games on android. We have already listed some best games for android.
There are multiple types of apps available in the android marketplace from which some are paid and some are free. The amazing thing about android is flexibility like we can even download paid apps by using simple tricks so if you want the check download paid android apps for free.
Android device comes with their own OS, Stock Rom, and custom features. But people need some extra features which are not given into the device. Some times the updates for older Android device is not given by your vendor.
So we need the rooting process to give our phone a new look and features. In our previous article, we also wrote about How To Root Android. After rooting we have access to a different subsystem of Android and we can manipulate them.
We can install some advanced apps which need system details that can only be accessed by rooting we have already listed out Best Root Apps. But after rooting your warranty from the vendor will be void. Sometimes users can not control the Android system correctly.
So to get our warranty back we need to unroot the Android device. If you do not know how to unroot an Android device then don't worry because in this article we are going to explain to you the easiest way to unroot an Android phone back.
How To Unroot Android Phone?
Method 1:-

Unroot Android Using ES File Explorer.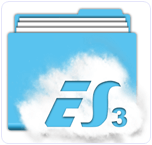 ES File Explorer is rather one of the best Android App which is available on the Google Play Store for free. ES File Explorer can handle the problems of Android 4.1 hang problem, video player issues, bug fixes, etc. It also provides support for zipping and rar files, provides remote file management, etc. Approximately 100,000,000 users download this App. You can also use it to unroot Android mobile.
Steps to Unroot Android Phone With ES File Explorer.
Download and Install ES File Explorer by clicking the button below.
Run and launch the App and tap the menu button.
Now you look for Tools and then select Root Explorer.
Now turn on the Root Explorer.

5. Now Superuser prompts you to grant Privilege or root privileges to the App. Allow it for further processing.

6. Now Return to the main screen and select '/

'

in the corner at top of the screen.
7. Now Go to the system folder then Go to the bin. In the bin look for the busybox and su file and delete them. If there is no file then go to the next step.
8. Return to the system folder then open xbin and delete the busybox and su file if there exists.

9. Now return to the system folder and open the app and delete the superuser.apk file in the folder.
10. Restart your device after that your device will be unrooted.
Method 2:-

Unroot Android Phone By Using SuperSU App.

SuperSU is one of the popular App for rooted Android devices that is available on the Google Play store for free. This App is used for Superuser Access Management. It provides the management for all the Apps that require a rooted device. It also provides superuser Access login, notification, App management, etc. This app also provides the facility for Unrooting the devices. Approximately 10,000,000 users download this App.
Steps to Unroot Android Phone With SuperSU App.
1. Download and Install SuperSU App by clicking the button below.
2. Click and Launch the App. Then go to settings and tap the Full Unroot.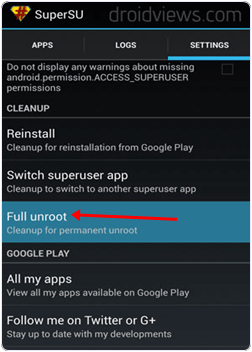 3. It will prompt for your confirmation click on continue. After successfully unroot your App will close automatically.
4. Restart your device after unrooting.
5. Uninstall SuperSU and your device is fully unrooted now.
Method 3:-

Flash Stock firmware.

If both of the above-given methods do not work for you, then don't worry. The last but not least method to unroot android is to flash stock firmware provided by the company.

Steps to Unroot Android by Stock Firmware are:

Note: Every phone and every manufacturer has a different method of flashing the stock firmware. Therefore we suggest you do a little research about your specific model.
Hence, we are providing a general method below.

Step 1. Backup all your files and data as it will be deleted.

Step 2. Look for the most updated stock firmware for your device model. You can search for it on xda forums or Google. Make sure it is specific for your device.

Step 3. Download the flash tool for your device OEM.

Step 4. Transfer these to your computer, and connect your phone via USB cable.

Step 5. Open the flash tool and flash the stock firmware on your device.

We recommend you watching a tutorial video for your device on YouTube, then you can easily perform flashing.

So these are the best and easiest method to unroot android phone easily. In case you face any problem don't forget to ask in the below-given comments.