Android mobiles are popular in the market because Android offers you amazing features at cheaper rates. Android is based on Linux based Operating System and hardware independent. The OS is popular for its Apps and games in the Google play store.
Google play store offers a large number of apps, games, eBooks at free, and paid versions. Android OS is a Google product, so Google provides all the features which need other services like play store, drives, maps music, and many more.
To store a huge amount of data and keep them secure We need to create a backup our all data safely. As we already discussed some Backup Apps For Android. Google also provides Sync features to drive or Gmail accounts for backups.
But we need a high-speed internet connection to do that. As the most important data of our phone is Contacts. So always to make a backup of all of them. In case our Android device is lost or sometimes our Android device is accidentally formatted by someone.
If you don't have the internet to sync then we have to backup contacts in android on some other storage device so that we can take backup in case of any emergency. If you do not know how to backup contacts in android phone.
Then don't worry because today we are going to discuss some best methods to backup contacts on Android devices. So that you can easily recover them whenever you want.
How To Backup Contacts On Android?
Method 1st:-

Backup Android Contact To SD Card.
Contact App is an inbuilt Android app that comes with every Android device. It is used to manage contacts on our Android device, save new contacts, and allow us to take a backup of contacts into an SD card or sim card. We can transfer these contacts into a PC or some other device.
Steps To Backup Contacts On Android.
1. Open your Android device menu and click on the contact App.
2. Then, click the Tap button now you see a popup menu.
3. In the menu tap the import/export menu item.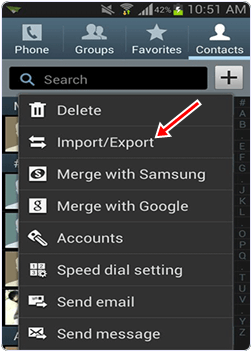 4. Now you see the import/export popup menu. In the menu select export to external storage.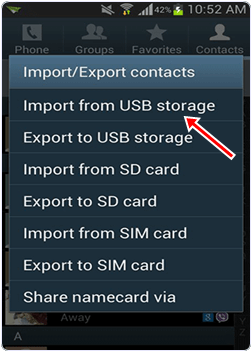 5. In this way you can backup your Android contacts to an SD card. The backup contacts are stored in the VCard file on the SD card.
6. Now you can connect your phone with PC using Wifi and USB cable and Drag and Drop your contacts to PC or Laptop.
Method 2nd:-

Backup Contacts From Android To Gmail.
You can also backup your Android phone contacts on your Gmail Account by using the following simple steps.
Steps To Backup All Contacts On Android.
1. Open your Android menu and finds settings. You can also open the setting by home screen drop-down menu.
2. In the settings click on the scroll button to find Account and sync.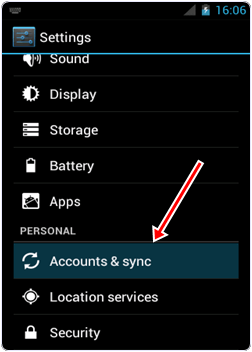 3. After that Login to your Gmail Account and tap the sync contact option. It will take a few minutes.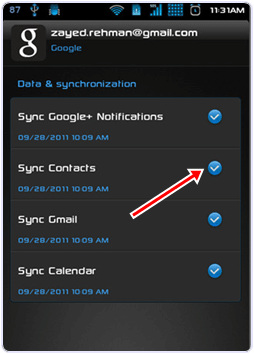 4. If you already save your contacts to your Gmail Account, then you need not follow first to steps and then directly login to your Account. Please open your Gmail on PC.
5. Select the contacts you want to backup and click the more button then select the Export button.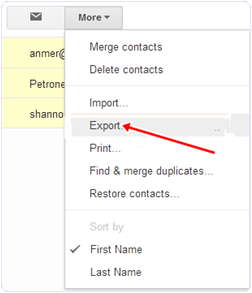 6. Choose the selected contact radio button and select the vcard format then you can save your contact to PC. You can open them in the Address book.
Method 3rd:-

Backup Contacts From Android To PC.
MobileGo is an efficient Application for sharing Android device data with computers. We can transfer data to and from Android to the computer and vice versa. The app is available for both Windows and Mac OS. It allows you to take a backup of your contacts just with one click.
Steps To Backup Contacts On Android.
1. Download and Install MobileGo Wondershare App on your PC. Run the App.
2. Connect your Android device with WiFi or via a USB cable. The software will automatically detect your Android device and show it in the primary Window.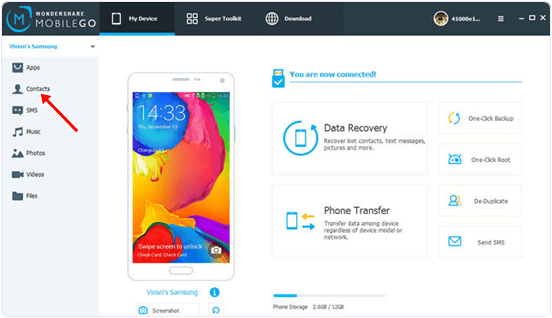 3. Now click on the contact tab to open the contact management window.
4. In the contact management window you see a list of your phone contacts.
5. Select the contacts and click on the import/export button.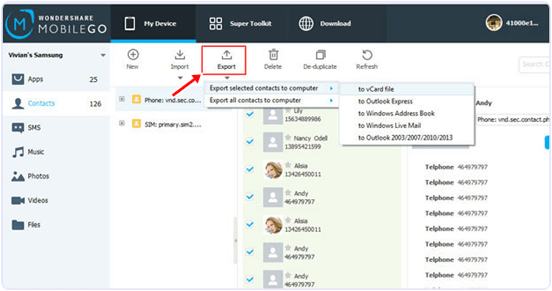 6. Now see a drop-down menu. In the menu select export selected contacts to the computer or export all contacts to the computer.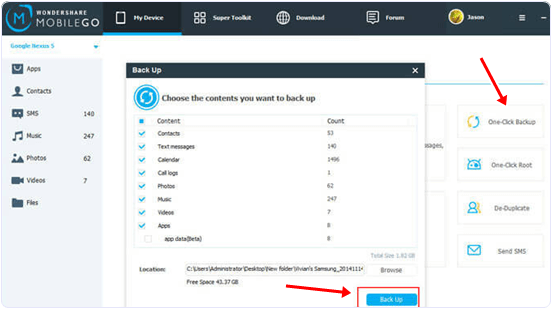 7. Now your contact list is ready and you can view it using Outlook Express, Window address book, etc in the vCard file.
Watch YouTube Video Tutorial
So these are some best ways to backup contacts on an android device easily. If you know any other method don't forget to share it with us in the comments.