PDF files a "read-only" files. PDF file format is more secure as compared to other file formats for creating any kind of document. PDF formats are viewable on any device and very easy to create. You can merge multiple documents such as photos, spreadsheets, and presentations into a single PDF file.
You can find various PDF editors in the market. Wondershare PDFelement is one the most popular and best pick for PDF editing. PDFelement has various features of which OCR is the best one. With the help of OCR, we can easily edit, insert, and delete text from PDFs. It makes the software a beast by installing a character recognition (OCR) plugin in it.
PDFelement is a full featured PDF creator and editor. Whatever you like to do with your PDF files Wondershare PDFelement is best for you. It also lets you convert Word, Images, Excel, and many other popular file formats to PDF files. It includes with useful features like editing, creating PDFs and combining files, redaction, form correction, document protection, and many more.
You don't need to be professional to use this software. Just download from the official site and edit your PDF files as you want. Wondershare has many other famous products such as video editor, video converter, Data recovery software, and PDFelement which is one of the best PDF editor software.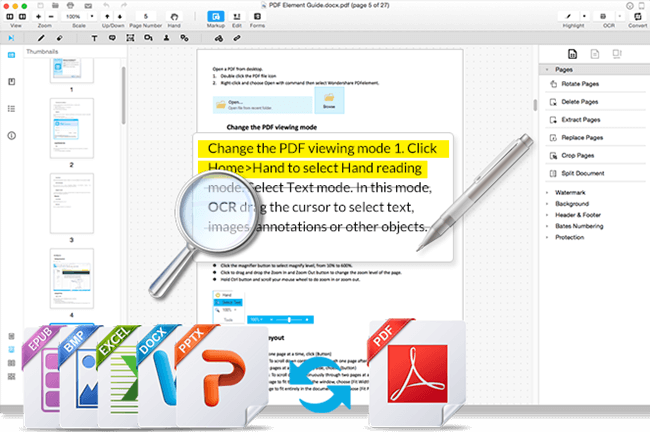 Why To Use Wondershare PDFelement Instead Of Adobe or Others. ?
Wondershare PDFelement is a more beneficial software as compared to others. It is hard to find a suitable or working PDF editor on the internet. Here we are going to explain the famous and popular PDF editor which is, Wondershare PDFelement. To edit PDF files is not an easy task. There is Adobe Acrobat X which lets you edit PDF files, but that one is too costly compared to Wondershare PDFelement.
So firstly it is less costly. It has too many features including optical character recognition (OCR). With the combination of the OCR plugin, you can easily convert PDF files, edit, protect PDF documents, remove protection, and add comments to PDF files. It lets you edit PDF files like a pro.
From a performance point of view, it works well and perfectly on Windows 7,8 and 10. While using this software, it did not show any drag, lag, hanging, or errors on our laptop and supports larger files as well. Wondershare PDFelement GUI is very user-friendly and easy to use and works great with the OCR plugin.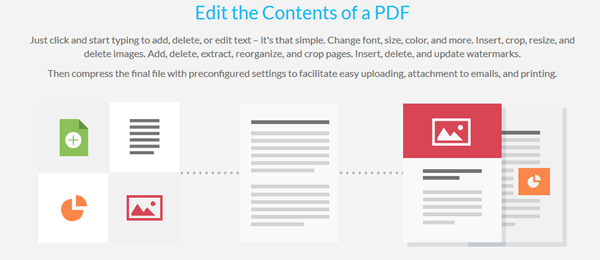 Features:-
Optical character recognition (OCR)- With OCR it helps to retain the document's appearance. It will transform scanned, image-based PDF documents into usable text again. OCR technology completely turns the software into a fully editable document. It also lets you search the text, edit, insert and delete the text, change text formatting, and remove images.
Convert PDF to Word, Excel, PowerPoint- You can convert PDF documents into any format such as Word, Excel, PowerPoint, images, and many more. It supports to conversion of more than 300 formats to PDF.
Create PDF from any document- It also let you create PDF from any document. Including Excel, spreadsheets, and Word it supports almost all formats. Every PDF file created by Wondershare PDFelement is 100 percent accessible with Adobe Reader, Acrobat, and other PDF readers. It also lets you merge multiple documents into a single PDF file.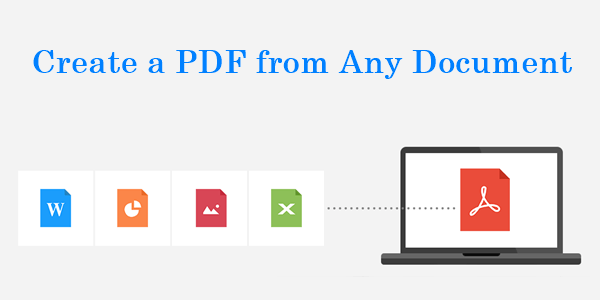 Powerful PDF form templates- It provides you with powerful PDF form templates. Including interactive field options such as buttons, text, check boxes, list boxes, radio buttons, and drop-down lists. You can download PDF templates from their official site.
PDF editing- Edit PDF files, change font formats, and many more you can do with the help of Wondershare PDFelement. It edits PDF files so simply that you can easily do editing in PDF documents.
Sign PDF with custom signatures- You can use the provided industry-standard encrypted digital signature, or you can create one specifically for your handwritten signature. You can also use pre-defined and custom stamps, such as "Approved", "Reviewed", and "Confidential".
Protect PDF documents with a password- If there are any confidential PDF files and other important PDF files then you can simply protect them with an open password. Wondershare PDFelement lets you protect your PDF files from being opened by unauthorized users. You can also apply permissions, in this way, you can restrict the user's access to PDF copying, editing, extracting, and printing.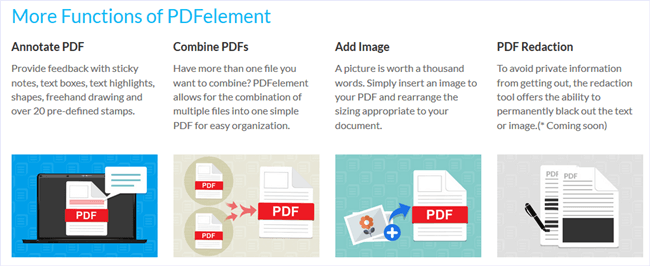 Annotate PDF- In this feature you can give feedback with sticky notes, text highlights, shapes, text boxes, freehand drawings, and more than 20 pre-defined stamps.
Media features- A picture in the document is worth a thousand words. You can insert images and screenshots in your PDF documents and rearrange them with appropriate sizes.
Redaction of PDF files- If there is any private information you don't want to show in your PDF document then the redaction tool will help out. This tool offers you the ability to permanently black out the text or image.
How To Download PDFelement. ?
Wondershare Elements is one of the best tools that is cost worthy. They have both free and paid versions. In the free version, you will get only limited features So we prefer you to buy it and access all its amazing features.

Its available for both Windows and MAC. You can easily download it for your device you just need to go through the official and choose your package and install it. If you want to try it right then go ahead.
Open Wondershare PDFelement official website.
If you want to use the trial version then simply try and download it.
If you want to buy click on Buy Now option.
Conclusion. ?
Wondershare PDFelement is very easy to use and has proven best alternative to other PDF editors or readers. One of the best things we like about this software is that it is very user-friendly and OCR technology makes this software more powerful as compared to other PDF editors. Whether you are a professional or a beginner everyone can use this software very easily with advanced features. If you are looking for the best PDF editor with a decent price then we recommend using Wondershare PDFelement.