Nowadays, due to the advancement of technology, there are a lot of videos available on the internet. It will provide you with a large number of videos in each of the categories which you want to watch. We understand much better when someone shows us something through a video or a movie. Due to these reasons, videos have become the best and most refreshing way to provide knowledge to the people in an entertaining way. But, all of you must know that there are different formats of videos. A Video can be in any format ranging from such as MKV, AVI, MOV and MP4. Out of these. MP4 is considered as the universal format for a video. Other than that, MKV is also a popular and one of the best formats.
All the video or media players almost support mp4 video format. On the other hand, some of the media players don't support MKV format. So, suppose you have made a video in MKV format, but it's not playing in the user's smartphone or device. Then there will be no use of that video. Or you want to watch a film, but it's not playing because it is in the MKV format. You will surely be frustrated. But you won't be now because we have come up with excellent software to convert MKV to MP4 video converter. The name of the software is VideoProc which works like a charm for converting videos.
VideoProc: MKV to MP4 Video Converter.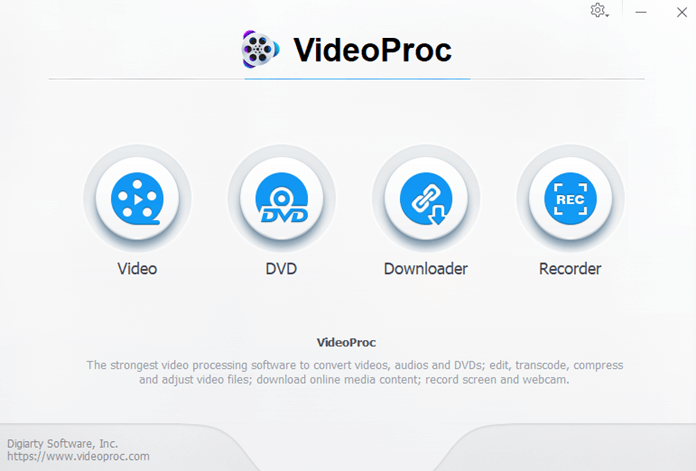 VideoProc is multi-purpose software which provides you with all the tools which you need for processing a video. This software is pretty lightweight. So, it will take much less space of your device and won't slow your system at any cost. It is a premium software. The main feature of this software is to convert any video which is in MKV format to MP4. Also, there won't be any loss in terms of audio or video quality. Moreover, it provides support 4K videos also. It has a GPU-acceleration feature which will use the full potential of your device's GPU. So, the software doesn't lag. This feature makes the software to process videos quickly.
Further, VideoProc also has tools to edit, adjust and resize video of any length. All of these features make it a one-stop video processing software. With that, it also has a built-in screen recording feature which you can use to record the screen. After that, it allows you to cut, merge, crop and add effects to the video. It also allows you to convert any audio without a bit of quality loss.
VideoProc Anniversary GiveAway.
As I mentioned earlier, VideoProc is paid software. But, there is a little surprise for you guys. There is a giveaway going on by VideoProc, especially as it is their anniversary. In this giveaway, they are giving you the software for free. So, you can get an all-in-one software with these many features without any cost. Then, what you are waiting for. You can click the below link. And, you will get the free code to register on the software.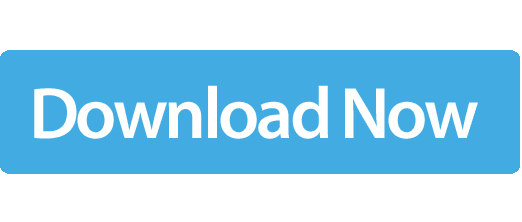 Once you click on the link, firstly, download the setup file of VideoProc. After the installation of the software is complete, copy and paste the free code in it. Then, you can get started and will be able to access all the advanced features for free.
Features of VideoProc.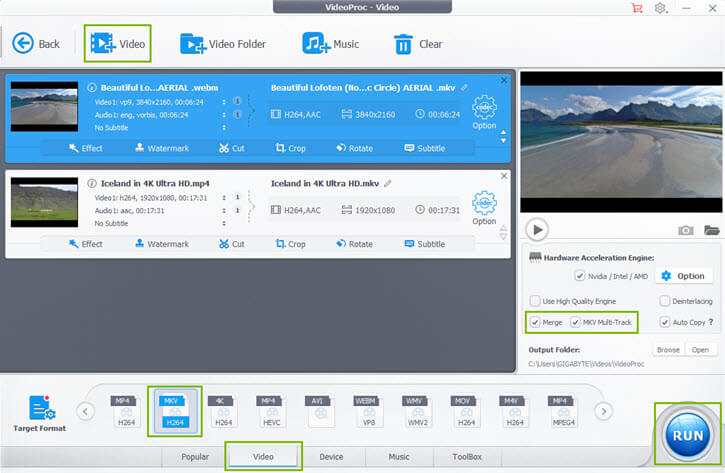 VideoProc is a monster in video processing. It has a lot of features and tools available in it. The features of this software are written below:
1. Best MKV to MP4 Video Converter.
VideoProc is the best converter from any MKV video format file into MP4 format. The converter works at a fast rate. Also, it ensures that there is not a percentage loss in terms of quality. So, you can get the best-converted video with the highest quality. Also, it has support to 370 input codecs as well as 420 output formats.
2. Easy To Use.
Though this software comes with all the advanced features. But still, it is pretty simple and easy-to-use software. It is because of the user interface. The UI is very intuitive. Even a beginner can use it flawlessly. Because it is not complicated as compared to other software.
3. Edit and Compress 4K Videos.
VideoProc software provides you with all the tools to edit 4K videos. It allows you to cut, merge, rotate and crop any 4K video. Other than that, you can also add a subtitle or any effects to the video. So, it can look more attractive. Once a video is completed, it also asks you if you want to reduce the video size. It provides a world-class built-in video compressor.
4. Fast Video Processing.
The video processing of this software is speedy. It is because it has GPU acceleration features. It combines CPU and GPU acceleration to get full hardware acceleration. Then, the performance and efficiency of the software increases.
5. Built-In Media Downloader.
VideoProc offers you a built-in media downloader. This tool will help you in downloading videos directly from over 1000 UGC websites which include popular platforms like Facebook, Soundcloud, Youtube, Dailymotion etc.
Verdict.
So, it was our verdict about VideoProc. It is the best MKV to MP4 video converter. Also, the most important thing is that it is very fast in video processing. And, they have organised a giveaway just for you. So, we recommend you to take advantage of the giveaway and get the software for free. Also, let us know about your experience with the software. We hope that you liked VideoProc to convert MKV video to MP4 format.