In a previous article, we talked about some of the content marketing tools you can use as a content creator. Demand for higher-quality content continues to grow exponentially, and the tools discussed in the previous article can save you a lot of time without lowering the reach and impact of your content.
Before you can use the tools that we discussed in that article, however, you need to make sure that creating content for digital marketing purposes happens smoothly.
This may not be a challenge when you only have a handful of content to produce, but a real problem when there are a lot – too much – to handle. The key to avoiding this issue is good project management, and a good Kanban implementation is all you need.
As a project management methodology, the Kanban system is known to be incredibly flexible and capable. Here's how you can get started with using the Kanban board for content-related projects.
Adjustments & Settings For Kanban For Contents
The standard Kanban board has three main stages: To-do, Doing, and Done. Cards used to represent each task in the project are moved along the three stages. When the card is in the Doing stage, you know that you need to work on it before moving to the Done stage.
The Kanban system is THAT simple, but its simplicity doesn't make it any less flexible. When you use software solutions that provide you with an agile Kanban board, such as Kanbanize, you have complete control over how the board is set up. Rather than three stages, you can have two or four depending on what you need.
I set up my Kanban board to have five stages: Ideation, To-do, Doing, Review, Done. Ideation is to process briefs from clients, discuss content types, and prepare a more detailed brief for my team. To-do represents tasks or projects that are already through the ideation phase.
Each task can be assigned to a team member – or myself, and each member of the team can move their tasks to Doing. Once they are done with the work, cards are moved to the Review stage. This is when we conduct internal reviews and get approval from clients.
The last phase on the board is Done, which means that all of the previous steps have been completed successfully. This is where the final output of a task or project is delivered to the client in the requested form.
Even this format isn't the only one you can implement for content creation. Kanbanize has a few interesting examples of agile Kanban board implementations, and many of them can be adapted to this industry and the needs of content creators.
Add a Timeline.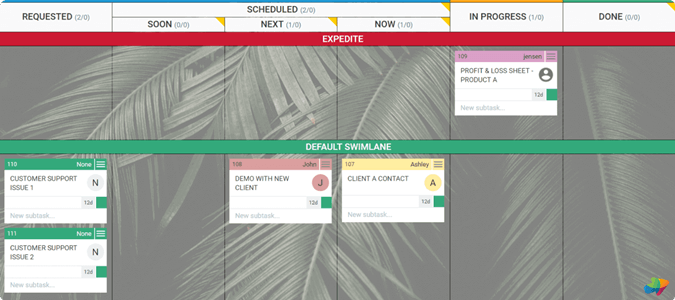 Time is always an important element of content projects. Content doesn't just need to be good and valuable, but also relevant and contextual. You can use tools to manage your tasks or projects; some Kanban tools include time-related features directly.
The best tool to integrate with your Kanban implementation, however, is an agile timeline. This, too, is a tool that many Kanban tools like Kanbanize now integrate. Cards can have their own start and end dates, and the timeline will get automatically updated when these dates are added.
Using the timeline, you can monitor deadlines for multiple tasks or projects without digging deep into individual cards. Simply take a glance of it, and you know how far along with the project you are. Monitoring the progress of team members becomes easier too.
Add Weighted Checklist.
Modern Kanban cards use checklists to add depth to project monitoring. It is also possible to use sub-cards and dependencies for the same purpose. However, the best way to really keep track of projects and tasks is by using weighted checklists or dependencies.
You cannot see individual tasks as equal in a content creation project. It takes more time to write a long-form article than to prepare a caption for a client's social media post. It takes substantially longer to shoot and edit a video than to prepare a press release.
The weighted checklist approach in Kanban allows for these tasks to be monitored in a more balanced way. For example, in a complex writing project, research and writing can have equal weight, but spellchecking should consume fewer resources since it can be simplified using the right tools.
When checklists and tasks are weighted, the Kanban board becomes more representative of your progress. Potential issues such as nearby deadlines, bottlenecks, and production problems can also be handled better when you know exactly what you are dealing with.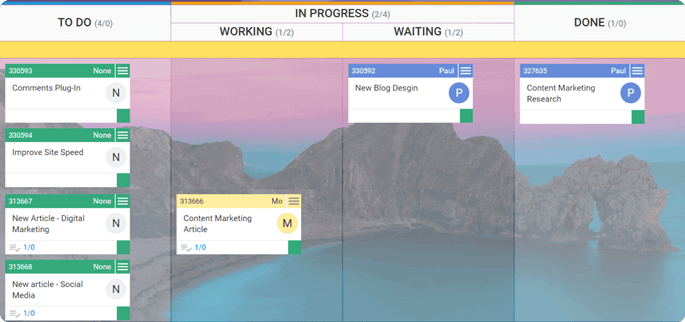 Watch Out For Backlogs.
Another important tip to keep in mind: make sure you set limits to every phase on the Kanban board. You can then utilize time tracking to monitor the time required to complete any particular task. The time tracking tools offered by digital Kanban boards are convenient when you are trying to solve bottlenecks and avoid backlogs.
Each stage must have a limit; you cannot have an infinite number of cards staying in to-do or doing since that represents a real issue in the content production workflow. Depending on your content creation operations' size, you can set anywhere from 10 to 50 as your limit.
The lead time of each task, on the other hand, says a lot about the effectiveness of your team and individual team members. However, it is not the only metric to pay attention to. You also need to compare the lead time for each task with the quality of work that comes out of that task.
Verdict.
We hope that you must have liked the article. Do share it with your friends and close ones. We will be back again with another article soon. Until then it's Goodbye from our side.