Apple iPhones is a name that doesn't need any introduction. Because they are trendy among users, it is because of the operating system being used on the iPhone. You must know Apple is using iOS as its operating system.
And, this operating system is not open-source; instead, it is closed. It means that you can't have access to its code, which is a great thing. With that, it means that the iPhone becomes more secures and protected.
Moreover, the user interface is pretty attractive, as well as responsive. And, you will have the ultimate experience while using it. But, there is also a drawback for all iOS users. This drawback is that it is quite challenging to maintain and organize files in it.
For that purpose, it has iTunes software, which is not up to mark, and it isn't straightforward too.
After reading this article, you will surely be able to overcome the drawback. Because today we are going to present you with a software called DearMob iPhone Manager. This software will enable you to organize, manage, and transfer files seamlessly on your iOS and iPadOS devices. So, Let's start.
DearMob iPhone Manager: All-In-One Solution.
DearMob iPhone Manager is a software that provides features and tools to maintain, transfer, and organize files from one place. It is called all-in-one software because it allows you to transfer data between two devices, manage media files, organize every record from one single software.
Moreover, the file organization becomes easy because it allows you to move, edit, view, etc., within the software. In this way, the management of any kind of file like a photo, video, audio, image, and document will be made very easier.
Other than that, it has a pretty intuitive user interface and uncluttered as well. It also allows you to filter the media files in terms of types, dates, albums.
Furthermore, DearMob iPhone Manager has a backup tool with it. Through it, you can easily backup your data. Plus, it allows you to restore only the selected data. It means that you can restore the selected files only when you want to restore the backup.
Security matters a lot in these types of software. Because of this, it has taken care of the security of your data as it uses built-in encryption to keep your personal data and information protected. There are various other tasks that you can perform through this software. It includes:
Combine Duplicate Contacts.
It allows you to Make and Set Custom Ringtone.
Access to Podcast and Calender.
You will get all of these features under one roof. Most importantly, you will be able to do this pretty much hassle & worry-free. This software is available for Mac OS as well as Windows devices. So, we don't think that there will be any compatibility issue.
Why we Need DearMob iPhone Manager?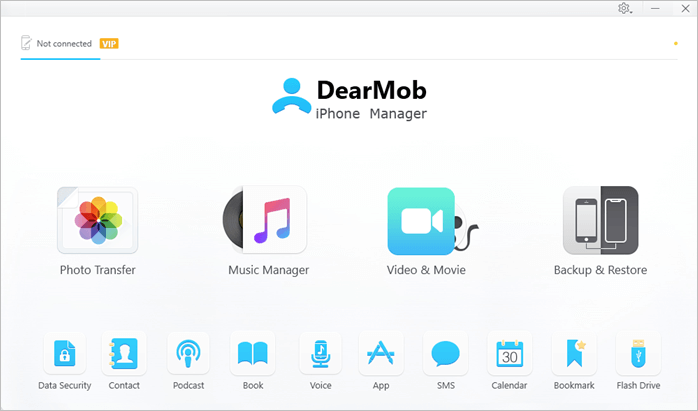 Till now, you must have known about DearMob iPhone Manager software precisely. But, there must be a thought going in your mind about what exactly can be that reason to use this software. No worries, we are going to clear your doubt regarding this.
The most important thing is that it can easily backup data. In this way, you can free up a lot of space on your device. At the same time, you can restore the data anytime and anywhere. Plus, there not such applications that provide services to transfer data from Apple devices.
It can do that pretty seamlessly. Furthermore, there are other general reasons because of which you will require to use this software:
Want to have an iTunes alternative to Manage iOS Devices.
Looking for easy to use and secured software to Manage, Organize, and Backup Files on iPhone.
Flexible Software To Import and Export Files between devices.
These were the reasons due to which you can use this software. But, anyone doesn't need a reason to use this kind of software because you won't find all-in-one software like this anywhere else.
Features of DearMob iPhone Manager.
DearMob iPhone Manager is full of features and tools. But, some features are standing out. And, those of them are given below:
Transfer Media Files.
This software has a feature that allows you to transfer media files from one device to another. These media files include photos, audio, videos, and much more.
It allows the transfer of data between iPhone to iPhone or Computer to iPhone and vice versa. The transfer is done at a breakneck speed.
One-Click Backup.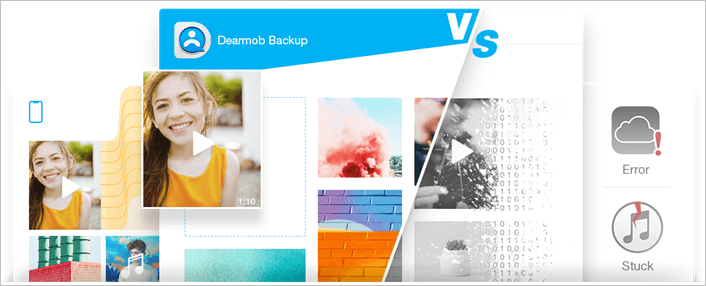 There is a tool in this software with which you can perform a backup of any device data. This backup can be performed with just one click only. Moreover, it also allows you to backup data to an external hard drive.
So, it becomes portable, and you can take it with you anywhere. In this way, you can easily free up a lot of storage on your device.
Restore Data Without iTunes.
Now, you know that you can easily perform a one-click backup with the help of this software. But, it also assists you in restoring that data to your device. Also, it provides support to restore data without iTunes. You can perform it on any of your devices.
Along with the above features, this software also has a feature to convert images of HEIC format to JPG format pretty easily.
Hence, these were are reviews of this software. It is a pretty efficient software that can perform the transfer, backup, and management for iOS devices. So, you should surely download it. It will assist you in a lot of your works with its features and tools. You can Get DearMob Iphone Manager.
Verdict.
Thus, our verdict about DearMob iPhone Manager can perform a lot of tasks for iOS users. Firstly, we used this software before presenting the review in front of you. So, we can say that it is great software with good features and performs efficiently. And you should surely download it. And, we hope that you must have found this review informative and understanding. Also, let us know your own experience with this software. We will be back again soon with a new article. Until then, it's Goodbye from our side.