Most of the people will surely use antivirus in order to protect their devices. But, there is another way through which a person can attack an individual or organization. And that is the Internet. Anyone surfing through a web browser or any other tool can easily be prone to cyber-attacks. For the past few months, it has become more important. Because a lot of people are doing there work through the internet.
While working, they also share a good amount of data or files with each other. Nobody wants anyone to breach their data. Not only the data, but the cyberattacks can also easily breach your online presence and get access to your delicate passwords. It is on the many reasons that we need Internet Security and Protection. Then, one can use the internet and do their work without any worries. That's the exact reason why we are here with you.
Today, we are going to introduce with Bitdefender Internet Security. Software that works along with the antivirus in order to make sure complete privacy and protection. It has won a lot of awards in this field. The performance is also world-class. Let's talk about it.
Bitdefender Internet Security For Complete Online Protection.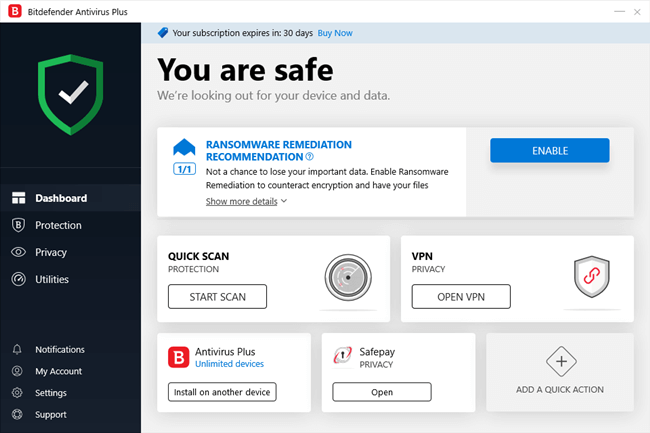 Bitdefender Internet Security is a feature-rich internet security software. It has a threat detection feature. Through this, all the threats will be detected easily and taken care of. Developed by Bitdefender, it is considered as one of the best tools for internet security. While surfing the internet, there is a lot of network traffic that can easily become a threat to you. But you don't have to worry about it. Because there is a spam filter that will filter the network traffic, and, throw away any type of spam.
A dedicated & strong Firewall is included in the software to protect your privacy. Being specifically designed, it will look for intrusions and block them. Being dedicated, productivity will surely at a high. All of this will run in the background. It will resolve any type of threats without your acknowledgment.
Plus, there is a built-in Virtual Private Network. It will help you in accessing any type of geo-restricted content. There won't be a need of any third party application for it. Moreover, it provides Real-Time protection against any type of ransomware, spyware, rootkits, and much more. With this tool, your online data and presence will be properly safe from any third-parties.
Features of Bitdefender Internet Security.
As we mentioned, Bitdefender Internet Security is a feature-rich software. All of the features can't be mentioned because of that. But, we are presenting you with the most efficient and productive features.
1. Protection.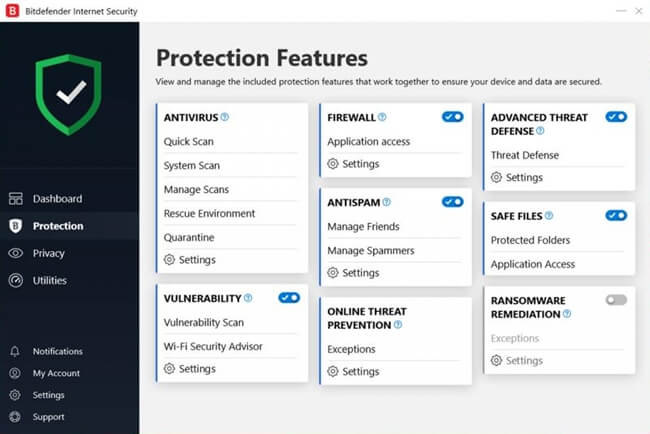 There are different functions that will protect your device from any type of invasion. It includes:
Network Threat Protection: It will make sure that no threats are coming from the network. For that, it will look for any suspicious activities. In this way, it will be able to block brute force attacks, botnet-related URLs, sophisticated exploits, and much more.
Web Attack Prevention: There is support for web-filtering technology within the tool. It will make sure that you never land on any malicious or third party website. All the infected links will be automatically blocked. Also, it will display you some results about a certain link before even clicking on it.
Anti-Phishing: People generally do online scams by phishing into your personal information through the internet. All of the sniffs which can actually steal the sensitive information will be blocked.
Anti-Spam: Spamming through messages, is also a way to get into someone's device. It contains an anti-spam feature. Through this, all the irrelevant messages will be filtered. Hence, there will only be important and safe messages.
2. Performance.
The software is pretty productive and efficient in terms of performance. It will provide the best results to the users. Your device performance will also easily optimized.
Autopilot: With this feature, the goal of the tool is to provide you with a Security advisor. It will provide you with all the security insights. Also, there will be some security actions recommendation.
Battery Mode: In this mode, the software will make sure that there are not any unnecessary tasks running at the moment. It will make some changes to some settings as well. All of this will lead to an increase in battery life.
Along with the above functions, you won't get any unnecessary requests while you are playing games, watching movies, and working on some tasks.
3. Privacy.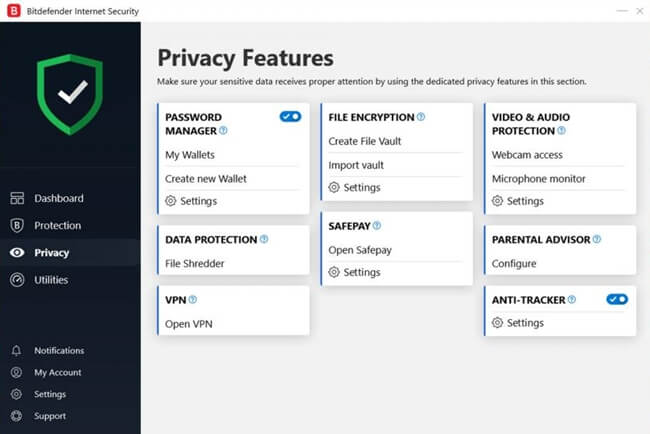 There are a number of privacy features that allows you to browse on the internet anonymously. So, your online presence is not tracked by anyone.
Anti-Tracker: There is an anti-tracker extension included in the tool. It will block all the trackers which try to collect your data. Each website collects some data on arrival, which will also be managed by this software.
Microphone & Webcam Protection: There are some methods through which someone can access the microphone & webcam of your device even in the switch-off state. It will notify you when any application wants to access any of these things.
Some other features like Safe Online Booking, Parental Control, Privacy Firewall, Social Network Protection, File Shredder, Password Manager, and Wi-Fi Security Advisor.
Verdict.
This was our verdict on Bitdefender Internet Security. It is one of the best ways to secure your sensitive or confidential information from any unwanted hand.  You can easily trust it with your device, and there will be no regret. Let us know about your experience with it. We hope that you have liked it.