In the modern era, the protection and privacy of our data is the most important thing. Data privacy and protection means keeping our personal data safe from any type of loss. Nowadays, most of our data like email passwords, banking & finances data and sensitive personal data are stored on our devices like PC or smartphones, etc. We do it because it makes our work easier and we don't have to remember each & everything. But the main question arises, Is your data protected and safe? We all want our data to be private and protected with the most efficient manner. So, the data is not leaked to any unwanted hands and they misuse it. Some people try to cross the firewall of our system through a few ways and try to steal our data.
What can we do about it? Yeah, you are thinking right. We use various antiviruses to keep our data protected and private. Today, we are going to present to you the best antivirus which you can use to maintain the privacy and protection of your data. The name of that antivirus is Bitdefender Antivirus Plus 2020.
Bitdefender Antivirus Plus 2020 Edition For Privacy & Protection.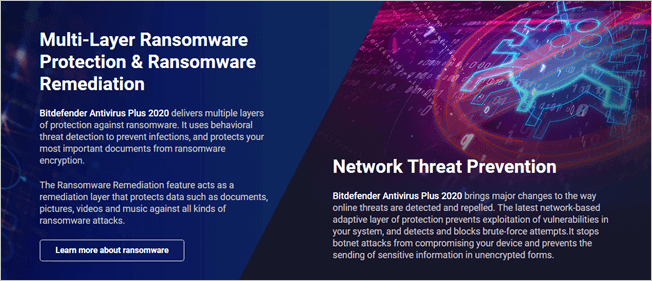 Bitdefender Antivirus Plus is award-winning antivirus software. It provides you the real-world protection. There are many numbers of features in it and they always put new security layers in newer versions. It has multi-ware ransomware protection to keep your files safe. This software can put some security suites to shame and the ransomware attacks to nill. This antivirus can be described in the points below:
Best Antivirus Privacy and Protection for Windows PCs.
VPN is included in the antivirus for a fast, anonymous and safe experience while you are surfing on the web.
It has online privacy tools included in it with password manager and Bitdefender safepay.
Improves system speed and battery life with optimized performance.
Provides comprehensive support 24/7.
Unlike the other antivirus available in the market which only provides service like removing existing malware infestations and foiling new attacks. We can say that these services are the essential task of antivirus. On the other hand, Bitdefender has a huge collection of features like security-centered features, password management, enhanced security for online transactions, multi-layered ransomware protection and with a VPN too. It is the antivirus which is recommended by the Experts.
Amazing Features Of Bitdefender Antivirus Plus: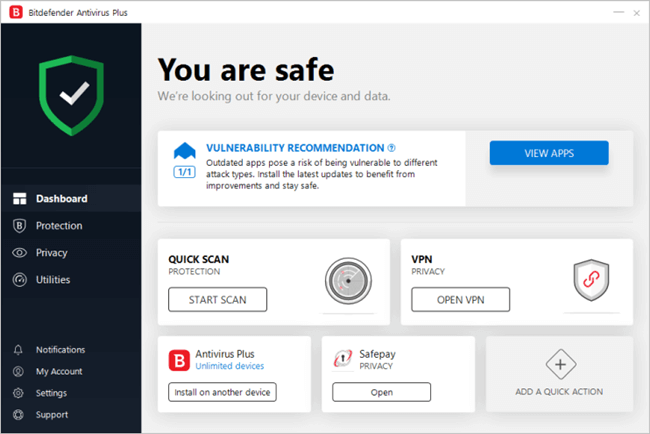 Bitdefender has a lot of features and it will provide you services other than an antivirus do. The collection os features of Bitdefender antivirus are given below:
1. Protection:
It's multi-layered will help you keep your device away from the new and existing threats.
Complete Real-Time Protection: It will provide you the most efficient anti-malware solution available in the market. Bitdefender Antivirus Plus 2020 works against all e-threats from viruses, worms to trojans and ransomware.
Network Threat Prevention: This antivirus brings you the new cyber threat intelligence technologies which can analyze and identify suspicious network-level activities and block all threats.
Advanced Threat Defense: It uses a technique called behavioral detection to monitor the apps closely. When it detects something suspicious, it automatically removes that and takes action against them.
Multi-Layer Ransomeware Protection: Bitdefender antivirus has multi-layered protection which has a data-protection layer that acts as safeguard any kind of your files against any type of ransomware attack.
Anti-Phishing and Anti-Fraud: This antivirus will protect you from any phishing or fraud attack. There a number of websites who tries to steal your data and sensitive credentials. But, it will help you get away from those attacks and block these attacks.
It also has other protection features like Rescue Mode, Web Security, and Safe Files.
2. Performance: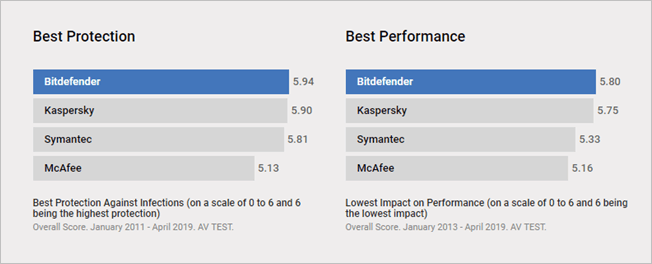 Bitdefender Antivirus is security software which will react to any type of malware and you won't be compromising with your system's performance. This antivirus will optimize your device performance too in order to get the best out of your PC. So, you don't have to worry if your device performance will be compromised when you install it. Because it won't ever. Below are some main points which help in maintaining the performance of your device.
Autopilot.
Bitdefender Photon.
Global Protective Network.
Games, Movie, & Work Modes.
Battery Mode.
3. Privacy.
Bitdefender Antivirus has complete protection which will take care of your online privacy and personal information. It will always protect your sensitive data from going to any unwanted hands. The main features of it are as follows:
Bitdefender VPN: Bitdefender antivirus provides you VPN which takes care of your privacy on the web. It will encrypt all your internet in order to protect your online presence as well as your personal information.
Anti-Tracker: It is one of the main and new features in this antivirus. It provides you an anti-tracker extension which blocks all the trackers that try to collect your data.
Safe Online Banking and Password Manager: This antivirus will make your online banking safer and will protect any type of your password from being leaked.
Vulnerability Assessment: It will check your device for any security holes or vulnerabilities with just one click. It will then recommend the best fix which can remove all of those vulnerabilities.
Social Network Protection: It will keep you away from any type of malicious link and online threats which are shared over the social media.
It has other features also such as Wi-Fi Security Advisor and File Shredder.
Download Bitdefender Antivirus Plus 2020 to get the best protection and privacy for your device. It has so many features with it as it is not just an antivirus but total security package for your device. Download it now to protect your device and personal information.
Verdict.
We always recommend to use antivirus to protect digital identity because our personal and financial lifes depend on it. Its really important to choose right antivirus upon which we can trust and always stay up to date for better protection. (Ultram) Bitdefender Antivirus is of the top notch player in antivirus field. We recommend your to give it a try and let us know your experience with them. We hope you like bitdefender to secure your digital privacy in right way`.