Being a Manga fan is not easy. You are always on the go to find a new one or to read few remaining chapters left behind. Whether you like comedy, horror or love genre, it is always facile to read your favorite manga on your device and I personally find it convenient too. And for that purpose I invite you to discover out The Best Manga Apps For Android available right now on play store. But before exploring the topic let us gather some knowledge on the topic of Manga.
Originally from Japan, manga are comics or visual novels. The style that most comics follow was created in Japan in the late 19th century, although the genre has a lengthy history in previous Japanese art. Both comics and cartooning are known as manga in Japan.
Because of its distinctive style and artwork, the Manga has recently gained a lot of popularity among people all around the world. Additionally, Web Manga has become extremely popular, because of image hosting platforms where anybody may freely post pages of their own. Even while some web comics never see print publication, the majority of them are still published digitally in the classic black and white style.
Android users may find a variety of Manga Apps in the Google Play store. Since they are all insufficiently compatible, you should take caution while installing one. But Don't worry at all. Here is the hand-picked List Of Best Manga Apps For Android available right now and you can download them without worrying about anything and can enjoy your favorite manga's anywhere and anytime.
List Of Best Manga Apps For Android.
1. Viz Manga.
VIZ Manga features the largest digital library, with all your favorite series in one place! My Hero Academia, Jujutsu Kaisen, One Piece, Junji Ito, Chainsaw Man, Demon Slayer, Komi Can't Communicate, Naruto, Zoom 100, Bleach, Death Note, Dragon Ball, Boruto, Skip Beat, JoJo's Bizarre Adventure, Spy x Family, and so much more! With hundreds of titles across a wide range of genres, they have something for everyone, whether you're an action addict or a shojo romantic at heart, a fantasy fanatic or a sci-fi aficionado, a comics geek or an art lover.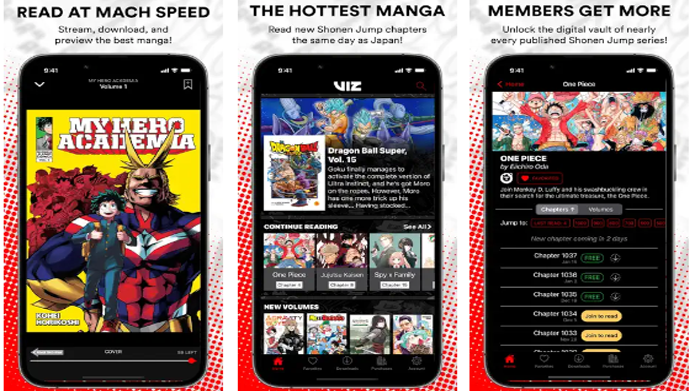 Install : Android
2. Crunchyroll.
Stream the world's largest anime library. Watch over 1,000 titles – from past seasons to new episodes fresh from Japan, including critically acclaimed Crunchyroll Originals. Get full access to new shows like Demon Slayer: Kimetsu no Yaiba, Platinum End, The World's Finest Assassin, takt op. Destiny, 86 Eighty-Six, plus classics like Boruto: Naruto Next Generations, One Piece, Jujutsu Kaisen, Attack on Titan, Black Clover, Naruto Shippuden, JoJo's Bizarre Adventure, and more! Whether you're new to anime, or have been a fan for decades, Crunchyroll has something you'll love.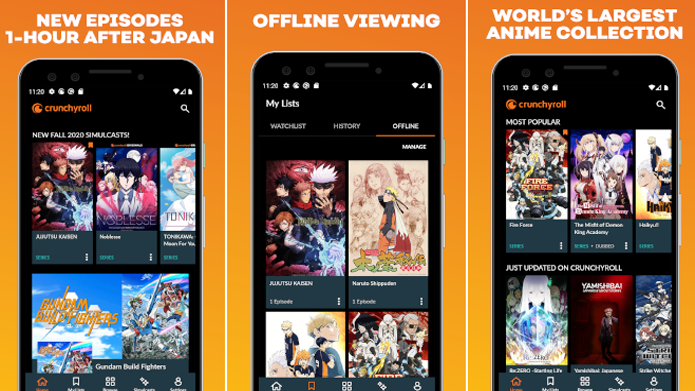 Install : Android
3. Shonen Jump.
Stream your favorite series anywhere, anytime on their advanced manga reader. Use landscape mode to view awe-inspiring 2-page spreads as they were drawn. Download to read offline. Create an account to sync your reading progress across any device and pick up where you left off! Light and dark modes available! Also Including All of Your Favorite Series In One Place! My Hero Academia, Jujutsu Kaisen, One Piece, Chainsaw Man, Demon Slayer, One-Punch Man, Naruto, Bleach, Death Note, Dragon Ball, Boruto, Kaiju No. 8, JoJo's Bizarre Adventure, Spy x Family, and so much more.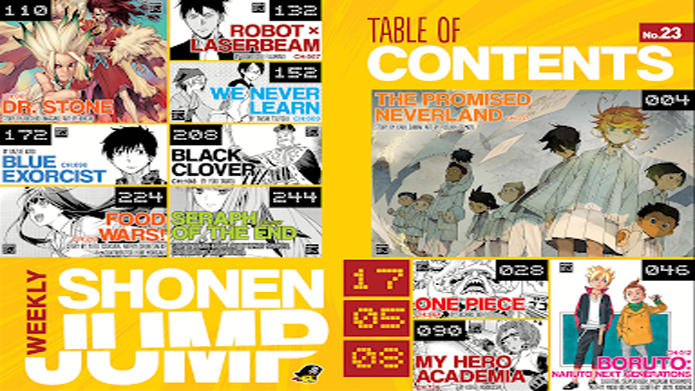 Install : Android
4. Webtoon.
Dive into WEBTOON originals, award-winning comics which update weekly. Discover new voices on canvas, where creators self-publish their series to a vibrant, diverse audience. Home to epic sagas, short stories, manga, manhwa, and daily comic strips, access thousands of creator-owned comics anytime, anywhere across 23 genres, including romance, comedy, action, fantasy, and horror. Featuring action-packed, international blockbusters like Tower of God, Noblesse, The God of High School, the suspenseful thriller Sweet Home, and the global rom-com phenomenon True Beauty now adapted into major TV and streaming formats.
Install : Android
Also Check :- 10+ Best MMORPG For Android
5. Inkr Comics.
The creators of the well-known software Manga Rock are behind INKR Comics. With this app, you have access to a wide range of comics in genres including action, romance, comedy, horror, drama, isekai, slice of life, sci-fi, and more. You will find stuff that you are likely to enjoy when combined with the personalized suggestions system. Additionally, the software automatically syncs your data and reading progress if you use several devices.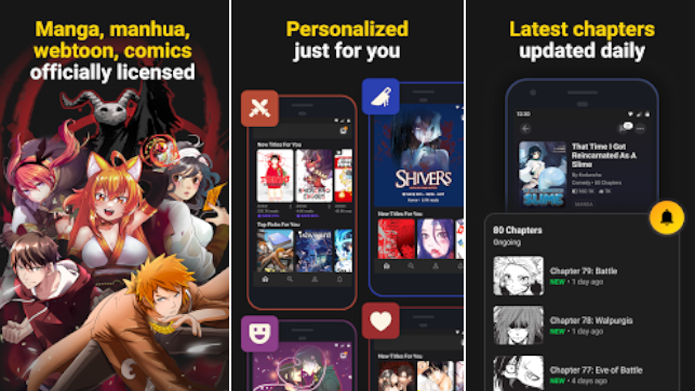 Install : Android
6. Tachiyomi.
For Android users, Tachiyomi is one of the most popular manga reader applications available. You may download it on your phone for free and it is an open-source Manga reader. Although the program itself doesn't provide a list of comics to read, you may add manga sources to it, and it will automatically arrange them so you can read whatever comic you like at your leisure. Services like MyAnimeList, AniList, Kitsu, Shikimori, and Bangumi are supported.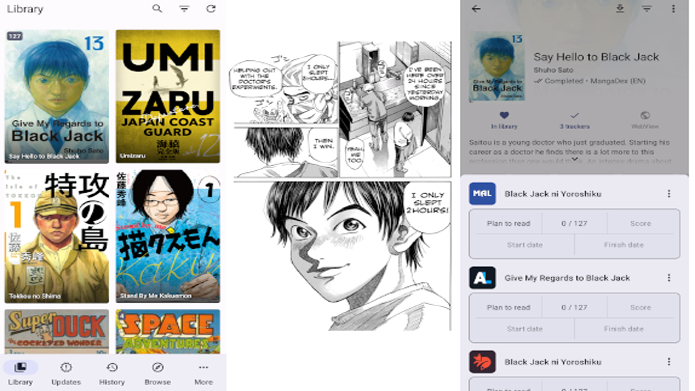 Install : Android
7. Manga Plus.
Manga Plus is the official manga reader from Shueisha Inc., and it is globally available. They publish the greatest manga in the world such as Naruto, Dragon Ball, One Piece, Bleach and more. The major plus point of manga plus is that you can read the latest chapters of the best manga for free daily, and simultaneously with its release in Japan!! More titles from the magazine will be added, so be sure to check back frequently! Some of the major titles include One Piece, My Hero, Academia, The Promised Neverland, Hunter x Hunter, Black Clover, Boruto: Naruto Next Generations, Demon Slayer, Dr. Stone, Dragon Ball Super, Hell's Paradise, Jujutsu Kaisen and lots more!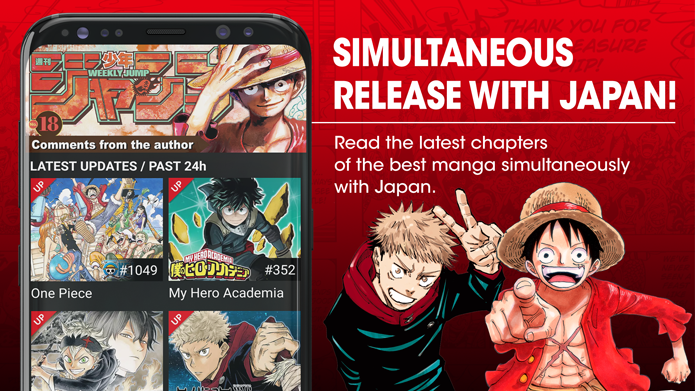 Install : Android
8. Manga Zone.
Manga Zone is an e-reader manga app for android that you can freely access any of your compatible android devices. It offers easy-to-read manga's that are continuously updated every day. Offering thousands of titles, it probably contains all the manga that you can imagine from the latest, most recommended to the most popular publications. Expect that all the reading materials you'll see here are in the English language. Manga Zone allows you to easily explore and search the title you are looking for by genre. Action, adventure, mystery, shoujo, shounen, seinen, horror, for adults, sci-fi, and drama are some of the genres offered by this app. You can browse through each genre to find the title you want to read. However, you can also filter the list by popularity, publication date, or update date.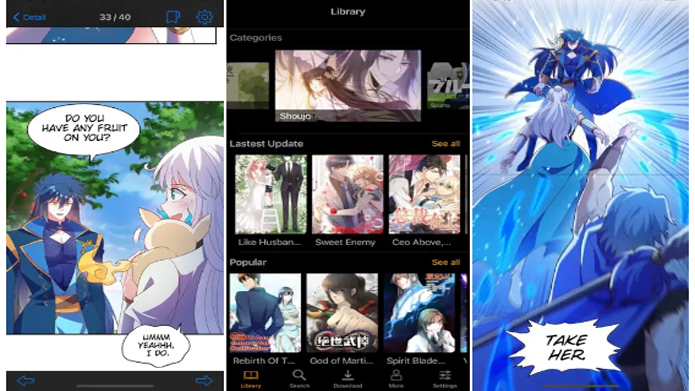 Install : Android
9. Mangamo.
Fans of anime and manga may relax; they have the perfect reads for you. View a tone of free chapters of Mangamo's cutting-edge, unconventional, and original manga creations from skilled Japanese authors. They bring you sci-fi, romantic comedies, horror, action, Isekai, romance and fantasy that you can only find with Mangamo's original slate which includes Loving Yamada at Lv999!, Devil-Chi, Nanase-san's Crazy Love Obsession, the most recent chapters of Record of Ragnarok, Ghost Story Loop, I Wanna Be Your Girl, Immortal Undertaker, Ultra-Fem Shishihara-kun, A Man With A Thousand Skills, Tokyo Death Game and more.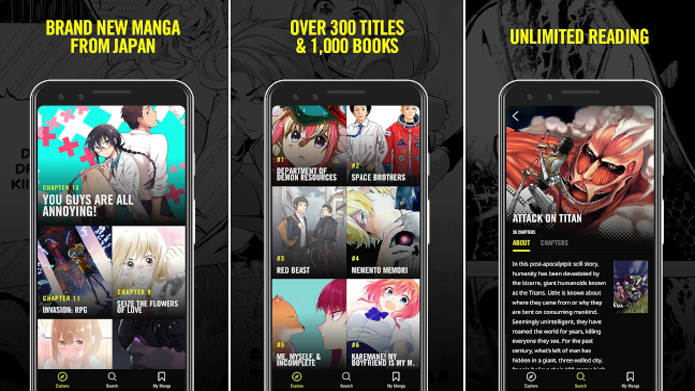 Install : Android
10. MangaToon.
A free to use manga app for android for reading manga, manhua, and comics called MangaToon. The comics are all vivid. Each day, new comics in the categories of Action, Romance, Boys' Love, Comedy, and more are released. Daily updates to the hottest comics. Read a tone of HD comics, including romance, action, and BL manga. Regular updates are made to every comic. Even some comics get daily updates. That translates to seven chapters per week. You may now read certain Korean comics on Manga toon. To ensure that you never miss an update, subscribe to your favorite comics. Additionally, MangaToon offers pay-per-view comics. You may also create your own tales on MangaToon and share them with its millions of users; those users will decide which stories to adapt into comic books based on how well-liked they are.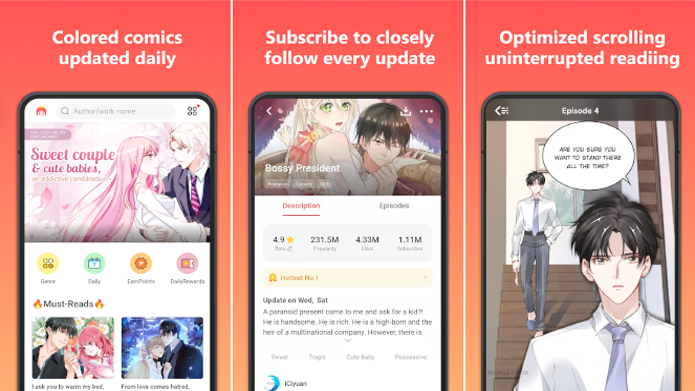 Install : Android
In conclusion, we hope that you find this list of best manga apps for android useful. For any suggestions, feel free to contact us. Please share with us which of these apps you like in the comments below. Don't forget to mention your favorite manga as well to start a discussion.