Discord is the most widely used platform for users to speak and participate about a variety of topics. Due to its strength and adaptability, gamers from all over the world have accepted it since it is quite intuitive. If you've ever used Discord and created your own server, you are already aware of how configurable it is. The best aspect is that adding bots to your Discord server will increase its functionality. Both of these can assist you in better managing your server while bringing enjoyable add-on features along. Although the app has more than 100 million downloads on Google Play, useful Discord bots are hard to come by.
So, We've compiled a list of the most beneficial Discord bots you should be utilizing right away that will enhance your server in 2023.
List OF Best Bots For Discord
1. MEE6.
One of the most well-liked and helpful bots for servers and groups on Discord is the MEE6 chat and moderation bot. To maintain a clear and secure Discord server, users can control a variety of server features and set restrictions for visitors and spam. If your Discord server has numerous channels, making it challenging to keep track of visitor traffic, the bot is very helpful. MEE6 enables you to set up commands, give members different levels based on their involvement, and notify them of impending events. MEE6 is well-liked for its many music features, including its capability to play and save playlists and songs.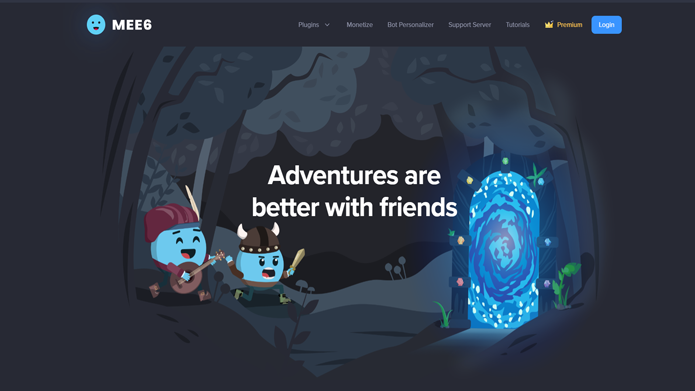 Install :- MEE6.
2. GAwesome.
GAwesome is the ideal option if you're wanting to add a multifunctional bot to your Discord server. It's a strong, highly adaptable bot that not only does a great job of moderating chats but also adds a tone of entertaining features to boost user engagement on your server. It may be used to kick, prohibit, or reward member ranks as well as run raffles, surveys, create sick memes, and do much more.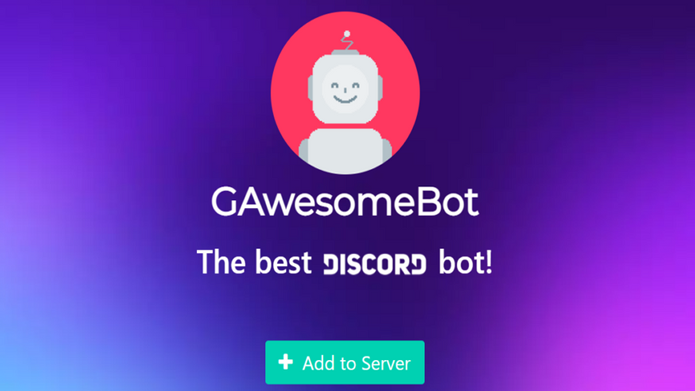 Install :- GAwesome.
3. Free Stuff.
One of the best Discord bots available is Free Stuff. Essentially, the bot does what its name implies: it notifies you of changes and notifications for games that are free to play. You can very much use it as the finest Discord bot for deals. The bot will notify you if a premium game becomes a free download once you've uploaded it to your server. The best thing is that Free Stuff won't annoy you with ads for games that are already free to play.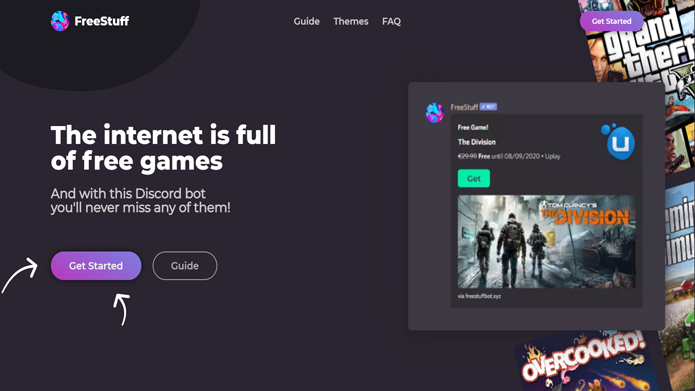 Install :- Free Stuff.
4. Dank Memer.
One of the top Discord Bots on the Top.gg list, Dank Memer is well-deserving of this position. The bot is all about memes, as the name would imply. You may modify photos, play meme-based games, and generate memes in a matter of seconds using this bot. There are also specific instructions for creating certain memes. Prefix commands let you create over 100 different types of memes in real time while you run your Discord server.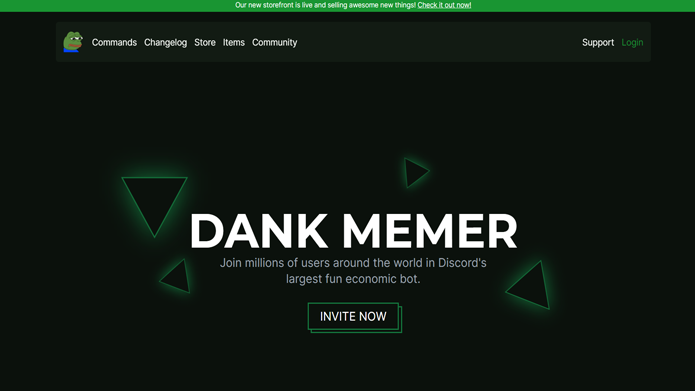 Install :- Dank Memer.
5. Mudae.
Another excellent Discord bot that you should include to your server is Mudae. More so if you are an avid lover of anime or a die-hard gamer who adores video game characters. Mudae is a Discord bot with a tone of anime and video game characters where you may edit your profile and compete with other similar characters. More than 35,000 characters, including waifus and husbando from manga, as well as 100,000 user-submitted photos and GIFs are all stored in its library.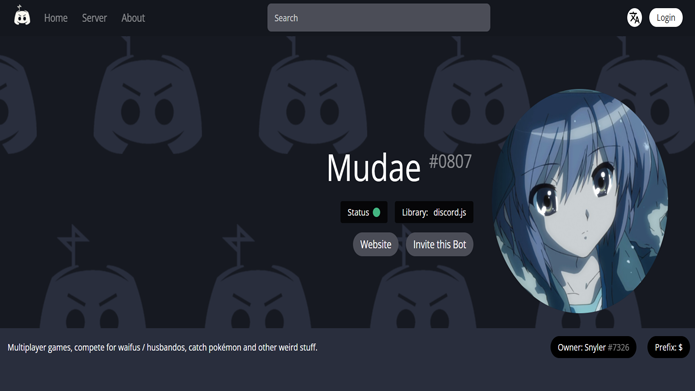 Install :- Mudae.
6. Tastumaki.
Many online game streamers swear by Tatsumaki, a very competent Discord bot. It gives you a huge range of commands for moderating, creating welcome messages, alerts, and a number of other functions. You may modify the bot's parameters from a separate dashboard, so it is not simply limited to Discord. You can do a web search, subscribe to an RSS feed, and more directly inside of Discord. Tatsumaki's much-discussed incentive system, which encourages users on servers to be more active by allowing them to gain XP and Levels, is undoubtedly its most prominent feature. Your position inside a Discord server is shown with an aesthetically appealing card, which encourages you to engage with other users more frequently. The look of your cards may be changed with actual money.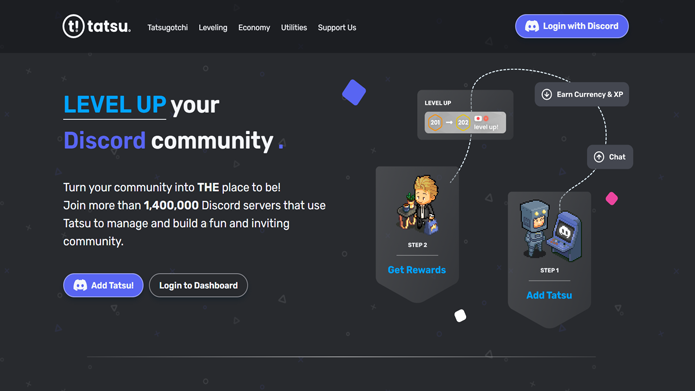 Install :- Tastumaki.
Also Check :- How To Add Bots To Discord
7. Jockie Music.
You may use Jockie Music, a well-liked music bot, on Discord. One of the greatest Discord bots you can add to your server if you've ever desired one that is only focused on music. You may stream music from several services with the Jockie Music bot, including Spotify, Apple Music, YouTube, Deezer, Tidal, and Soundcloud. To start playing music with the bot, either put the song's keyword in the channel after the "m!play" prefix, or paste the song's link straight after the prefix.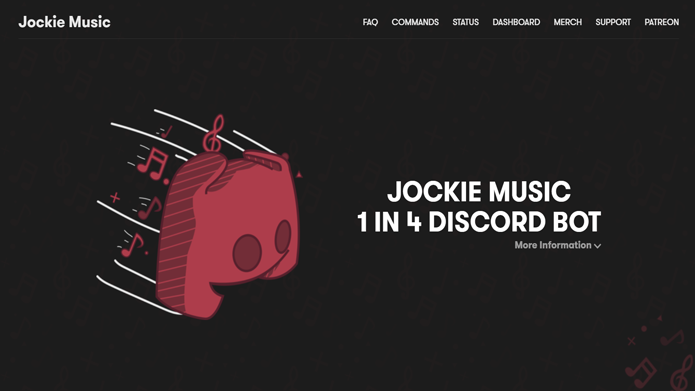 Install :- Jockie Music.
8. Dyno Bot.
Dyno should probably be the very first bot you put on the same to increase its capabilities if you've recently started up your Discord server. With a separate dashboard, this feature-rich bot provides you complete control over all of its capabilities, including auto moderating with Mod log, timed mutes, and bans. Additionally, it has been modified to recognize raid spam or mass-mention spam in your community discussions.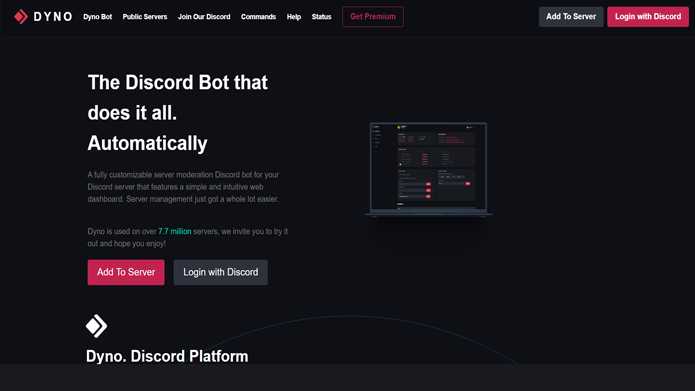 Install :- Dyno Bot.
9. YAGPDb.
YAGPDB is another Discord bot for handling a variety of server chores, much as Tatsumaki and Dyno Bot. You may learn a lot about this bot by looking up YAGPDB, which stands for "Yet Another General Purpose Discord Bot." To be clear, the person who produced MEE6, a very well-liked Discord Bot, is also the person behind YAGPDB. The fact that YAGPDB adds several additional capabilities to the table that MEE6 did not is the only distinction between the two bots. In addition, stability is unfailing no matter how you set the bot's behaviour.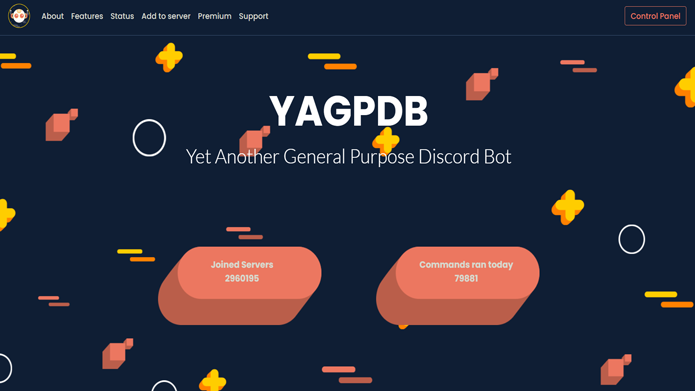 Install :- YAGPDb.
10. Epic RPG.
Epic RPG is presently one of the greatest Discord bots for playing text-based RPG games and levelling up in epic battles. The best part of this game is that you can buy and trade armour and weapons to other players on the server in addition to the RPG elements. You must defeat the dungeon bosses in each of its more than 15 dungeons in order to gain new commands and features. If you've never played this game before, just type "rpg start" and the server will walk you through all of the commands and guidelines. Like in an interactive game, you can check your profile, your inventory, and complete quests. Additionally, it encourages hunting and adventure, both of which I'm sure many people seek.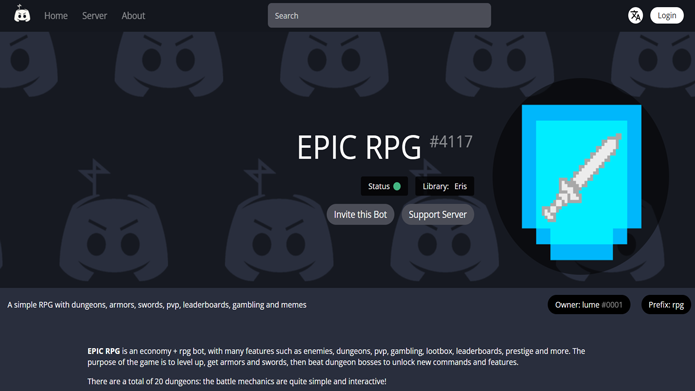 Install :- Epic RPG.
11. Arcane.
You may use the levelling bot Arcane to assign roles to members of your Discord server as they advance in rank. Additional intriguing features include moderation options, YouTube notifications for new videos, and reaction roles. Through Arcane's logging function, you can also keep track of users who are joining and departing the server. Arcane is the bot you should take into consideration if you're seeking for a capable one that has all the functionality you require to administer your server efficiently. For additional features like configurable XP, prolonged logging, infinite reaction, and booster roles, you can also purchase Arcane Premium.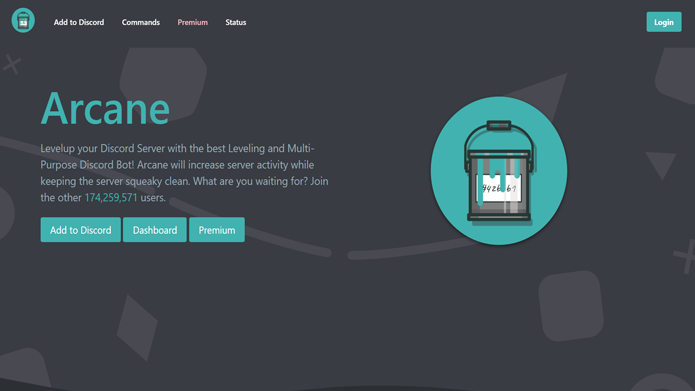 Install :- Arcane.
12. Trivia Bot.
You can invite the Trivia Bot to Discord to engage in ongoing fun with the community even though voice chats and discussions are frequently held there after the game. A multiplayer trivia game with over thousands of questions and multiple categories is available to test your knowledge. Sports, wildlife, and science are just a few of the categories, which also include television, manga, and movies.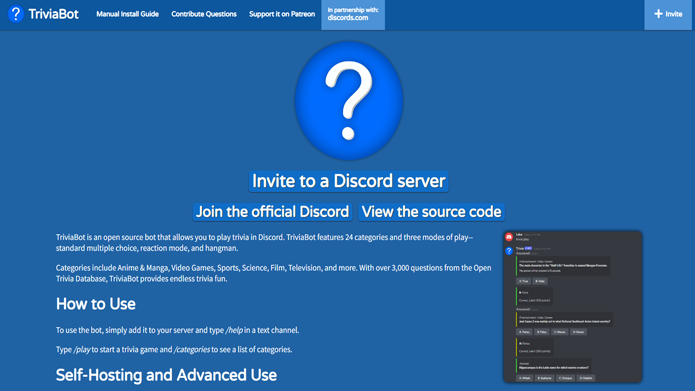 Install :- Trivia Bot.
13. Discord Translator.
A language barrier shouldn't be an obstacle for the gaming community. Language can be a major obstacle to building a community where we can all hang out in a world full of battle royal games where we play with players from other nations. If that is the issue you are having, the Discord Translator bot is the perfect solution. Users can send messages into the bot in their own language, and it will translate them into the language they specify at a later time.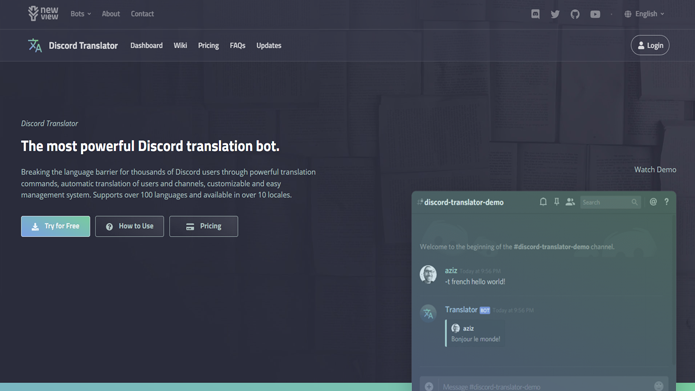 Install :- Discord Translator.
14. Captcha Bot.
A CAPTCHA bot is a computer program that makes an effort to get through human verification checks used to establish whether a website visitor is a real person. To stop abuse coming from automated scripts and network flooding attacks, they are frequently included to websites and online forums.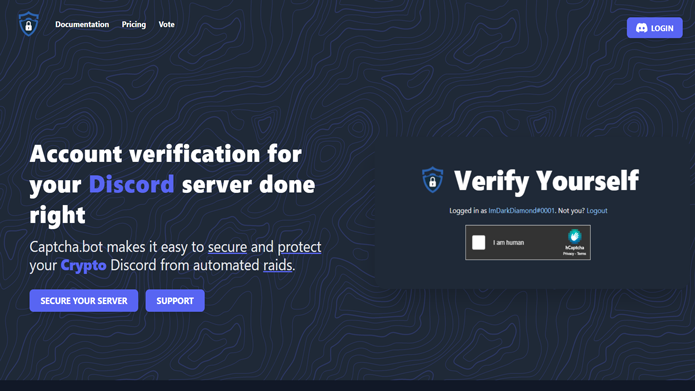 Install :- Captcha Bot.
In conclusion, Discord bots may let you accomplish a lot more with your servers and are now an important component of your chat experience. If you have a community, you don't have to be watching over the servers to manage it. Feel free to contact us.